How to stage your home's lighting for property listings and viewings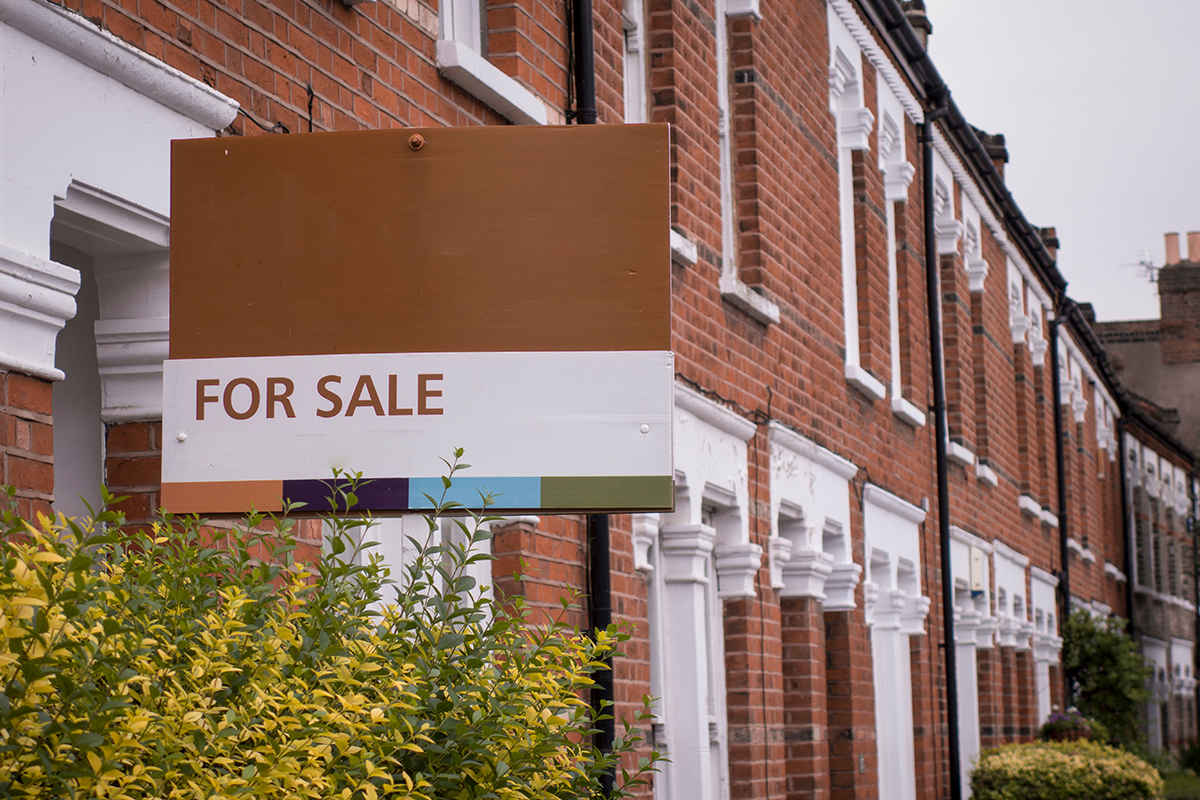 Home interior trends tend to revolve around making a room appear larger, airier, or lighter, with trending themes including brightening wall colours and minimalist decor to open up rooms across the UK.
However, when focusing on decor and colours, one key factor is often overlooked - the lighting and staging of the room. Changing a light fitting is far quicker, and largely cheaper, than any other renovation. But how does a homeowners choice of lighting affect the property value, and which fittings are currently trending?

To find out, our lighting team scrutinised 500 property listings, comparing the offers received on those properties with how they were staged and the fittings utilised in every room of the home.
The impact of lighting on a property's value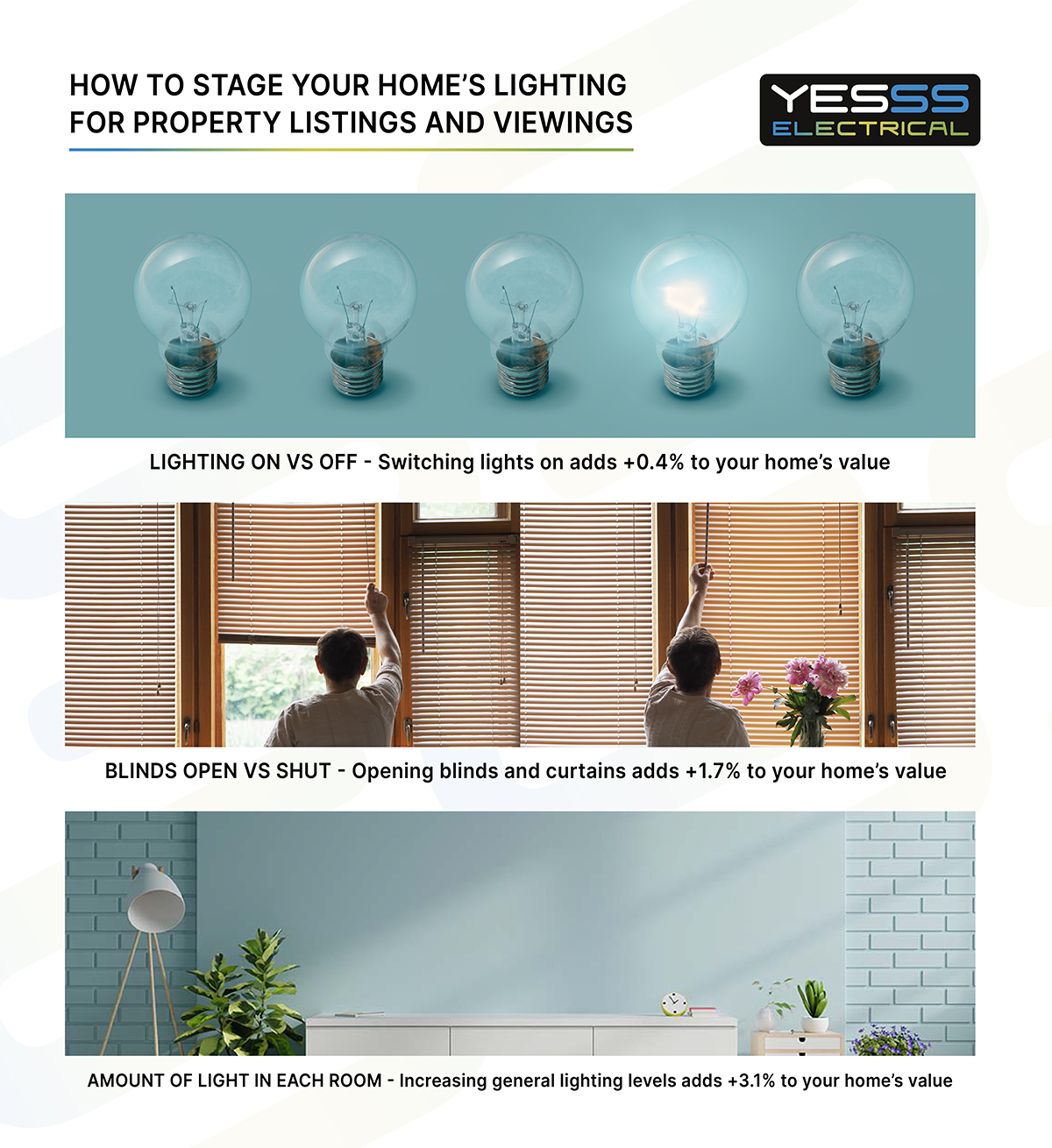 Turn lights on to increase value by 0.4%
The quickest way to encourage your property's sale is to ensure all lighting is turned on for listings and showings. Our analysts found that lighting up your home increases the average offer by 0.4%.

Dave Simpson, spokesperson for YESSS Electrical: "Lighting around the home creates a warm, habitable atmosphere, while rooms without light can seem colder - and are harder for buyers-to-be to envision themselves living in.
"Ensure your lighting is switched on if any part of your home is accented with light. You might have cabinet lighting installed to emphasise a new worktop, wall lighting to accentuate a bare brick wall, or period features lit up across the home. The lighting will draw viewers to these features, increasing your home's kerb appeal."
Drawn curtains make sellers miss out on 1.7% of a property's value
On average, sellers increased offers by 1.7% when bidding on a home with open blinds and curtains, versus one with shut curtains. Without natural lighting, rooms appear darker and colder, and any features of the property aren't accented.
Increasing general lighting levels adds 3.1% to your home's value
A combination of natural lighting and electrical lighting around the property increased offers on properties by 3.1%, versus a dimly lit home.
Dave Simpson, spokesperson for YESSS Electrical: "As many UK residents spend more time than ever before at home, ensuring that all rooms are well lit and bright massively boosts your home's kerb appeal. People don't want dark rooms that require creative solutions to light, be usable, and inspiring to work from and live in. Instead, buyers are willing to pay for the convenience of south facing main rooms and home features already distributing lots of light around the property."
To increase light distribution around the home, homeowners can strategically use the lighting already in their home - placing mirrors around the property, or opting for doors with windows to keep light flowing through the home.
If areas of the home see less natural light, increase lighting levels with innovative and sleek light fittings. Our team's analysis of UK property offers summarises the most desirable light fittings for each room of the home below.
The light fittings that increase kerb appeal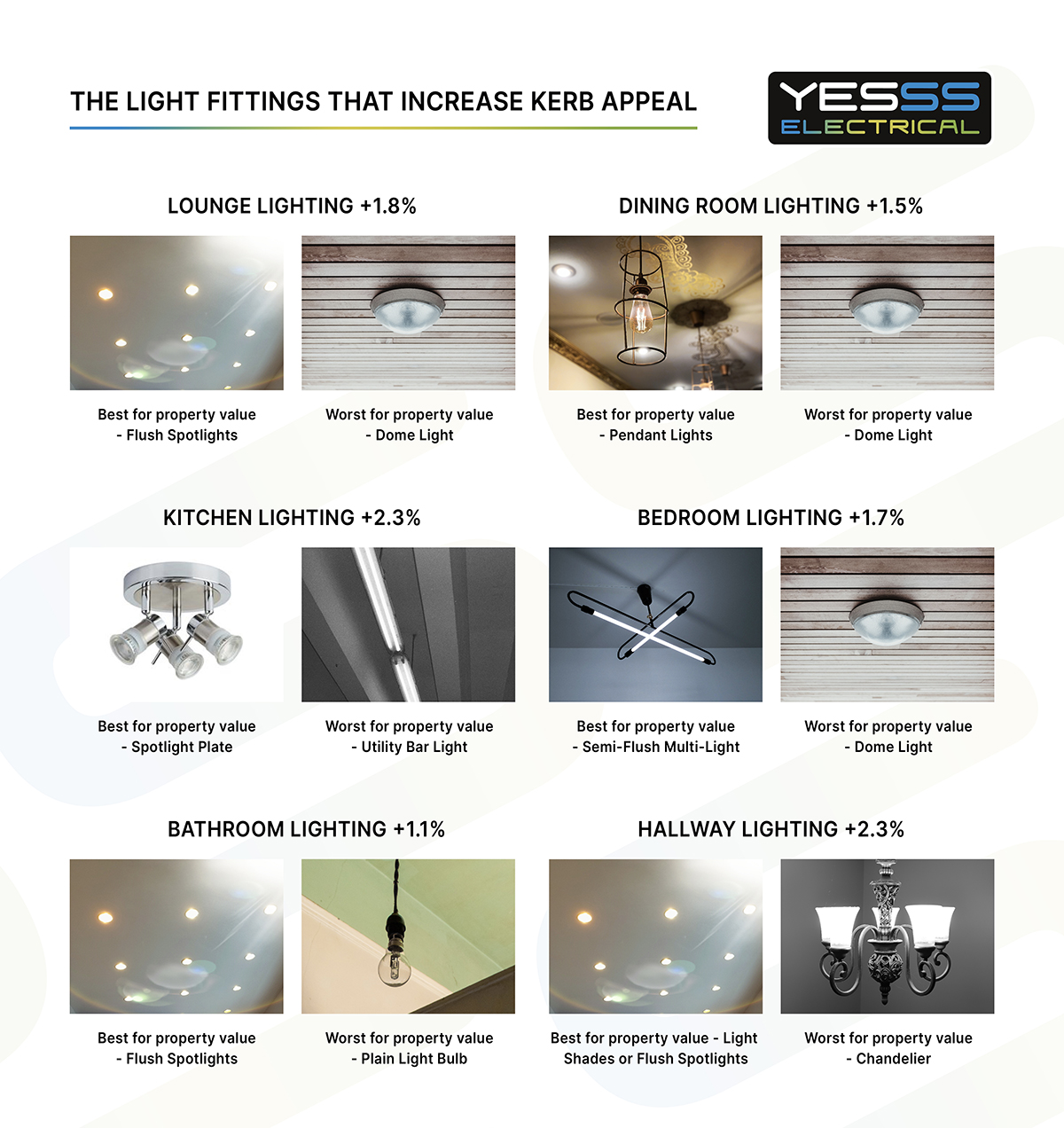 Overall, the results highlighted that LED downlights are the most popular fitting, with homeowners willing to pay more for properties with these in the lounge, bathroom, and hallway. The energy efficient LEDs used in downlights, dimmable features offered to change the ambiance of the room, and the even lighting they provide are all reasons why LED downlights are so popular.
The least popular fitting is the dome light, a lighting type often associated with utility usage and older properties. While these lights are functional, they aren't as sleek and subtle as recessed lighting.

Lounge lighting +1.8%
The choice of lighting in the lounge followed this main trend, with the replacement of dome lights with downlights adding an average of 1.8% to the value of the property.

Dining room lighting +1.5%
While dining room renovators should also opt to replace dome lighting, pendant lights are the most popular style. Pendant lights are low hanging lights, that often hang over breakfast bars and tables. Metal surrounds and groupings of three are popular.

Kitchen lighting +2.3%
The largest increase in value (joint with switching out hallway lighting) comes from the kitchen, where replacing a utility bar light with a spotlight plate can add 2.3% back to the home's value. Spotlight plates are mounted spotlights that can be adjusted and positioned for different tasks. These are favourable for a kitchen setting as they provide direct lighting for tasks such as cooking.

To complement overhead lighting, also install under-cabinet lighting. These also illuminate worktops, and provide additional, striking ambient lighting by highlighting the features and aesthetic of your kitchen.

Bedroom lighting +1.7%
Semi-Flush Multi-Lights are the most popular choice for bedroom lighting. These fittings incorporate multiple light bulbs, and provide a more orange, less direct light source than spotlights - perfect for the bedroom, where softer hues provide a more relaxing atmosphere.

Bathroom lighting +1.1%
Bathrooms are another room that benefits from downlights. This style of lighting is useful for tasks, highlighting certain areas of the bathroom for things like doing your makeup or shaving, but also provide a clean, neutral lighting to the room. Avoid the main put-off for a bathroom - a plain lightbulb sans shade.

Hallway lighting +2.3%
Despite the popularity of shows such as Bridgerton, a grand chandelier in the hallway is an eyesore for buyers-to-be. Unless the space has extraordinarily high ceilings and a large entrance, buyers were put off by chandeliers, instead preferring more discreet flush spotlights or light shades. A highly ornate entrance light can make the area feel too cluttered if it isn't appropriate to the scale of the hallway.

Dave Simpson, spokesperson for YESSS Electrical: "Despite interior trends changing quite drastically year on year, it's interesting to see that LED downlights are the most popular fitting to install in your home, as it's been a really popular product for years.

"In comparison, shorter term trends such as chandeliers, inspired by period TV dramas, haven't caught on and actually devalue a home.

"Generally, you can't go far wrong if you light each room of the home for its purpose. Use task lighting such as downlights with cabinet lighting in kitchens, and downlights with mirror lighting in bathrooms. Utilise warmer lighting in rooms you want to relax in, such as the bedroom.

"On the whole, subtle recessed lighting is more popular to implement across the home. If you do choose to install LED downlights in the lounge and bedroom, dimmers are an effective touch that mean the room's lighting won't feel overly bright in the evenings.

"When selecting light fittings, avoid lights incorporating fans and floral-glass themed multi-lights. The most in-demand surrounds are currently metal designs, especially when paired with pendant style lighting."

About YESSS Electrical
YESSS Electrical are the fastest growing electrical wholesaler in the UK with over 95 branches nationwide. Locations include London, Sheffield, Leeds, Nottingham and even the Channel Islands.

The YESSS Lighting team supplies efficient indoor and outdoor lighting solutions for home and work to both the trade and B2C customers. They offer a wide range of light types including LED downlights, decorative spotlights, and LED light bulbs.