Receive a FREE TOPL spill safe cup!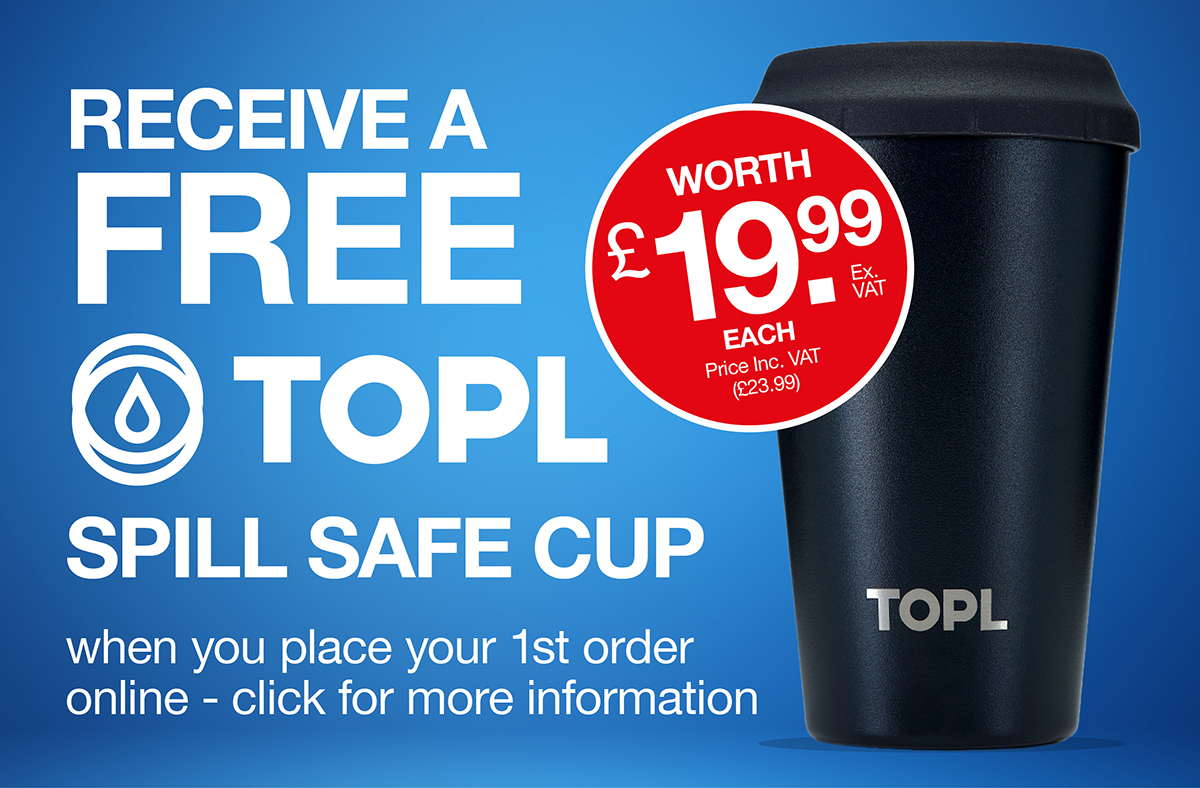 Receive a FREE TOPL spill safe cup!
Receive a FREE TOPL spill safe cup when you place your 1st order over £75 ex. VAT online in May 2022*.
If you currently have trade account without online access, speak to your local YESSS branch and they will update your account.

If you already have a log-in setup for our YESSS App, please use the same log-in details for the website.
Having your trade account activated for online use gives you access to:

Over 12,500 products including your local YESSS branch stock
Click & Collect (within 1 hour)
View your account including quotes, orders and statements
Ability to make a payment on your trade account
Your saved pricing
More about TOPL:
A TOPL travel mug is the perfect accessory for any commuter. A stainless steel, vacuum insulated travel cup with a smart twist lock lid, the travel cups in this range are designed to enable natural drinking whilst on the move. Leaks and spillages won't be an issue with a TOPL reusable coffee cup, and their regulated flow helps to reduce the risk of any mishaps.

TOPL travel cups aren't your regular travel mugs with lids – they are strong, efficient and built with spill-proof patented technology. Our TOPL mugs have an ergonomic design and also enable 360° drinking to ensure that you can sip your favourite hot or cold beverage with ease. These innovative travel cups offer up to 6 hours of cold beverage drinking and up to 4 hours of hot beverage drinking, making them suitable for everything from warm coffee and tea to cold fresh juice.

These travel cups are built with a non-slip base and a ceramic body. Unlike standard disposable cups, the ceramic build allows you to take in the full aroma of your beverage and thus enhances the taste.

At YESSS Electrical, we stock TOPL cups in a range of sizes such as 8 oz (short) and 12 oz (regular). We also supply these reusable leak proof travel mugs in a variety of colours, including off-white, hot coral, teal green, jet black and stone grey.

Take a look at our superb range of sustainable TOPL travel mugs today to find the best reusable coffee cup for your needs.

*Terms & Conditions: To be eligible for the attached promotion you must have full authority to receive a personal reward as part of your trading relationship with YESSS for business transacted. As such, excluded from participation in the promotion will be any employees of local authorities, public bodies and any company whose terms of trading specifically prohibit participation in incentive-based promotions such as this. YESSS reserve the right to change the promotional period in exceptional circumstances. Details of any change to the promotional period will be clearly communicated by YESSS. For Trade Account customers, your TOPL cup will be given to your account manager at your local branch early June 2022 for them to deliver to you. For qualifying credit/debit card orders, your TOPL cup will be sent to you early June 2022. Offer is valid 1st May until 31st May 2022. You must spend over £75 ex VAT online at www.yesss.co.uk to qualify for the offer. This offer is limited to one TOPL cup per trade account / email address.