ABOUT YESSS
We're the fastest growing electrical wholesaler in the UK with over 95 stores nationwide and have been established in Europe almost 50 years. Located in London, Sheffield, Leeds, Nottingham and even the Channel Islands. Each branch has a helpful knowledgeable team, with their own delivery drivers. Vehicles have satnav, Bluetooth mobile and live trackers giving complete traceability for orders.
YESSS offer a full range of support services including EV, Industrial, Security and Lighting, with each division having a team of specialists within their industry. Can we support your business? YESSS we can!
Our product range includes, but not limited to:
Lamps & Tubes
Light Fittings
Wiring Accessories
Switchgear & Distribution
Industrial Controls
Cable & Cable Management
EV & Energy
Smart Homes & Data
Heating, Hygiene & Ventilation
Fire, Security & Access
Labelling, Safety & Workwear
Tools & Equipment
Fixings, Sealants & Adhesives

NATIONAL DISTRIBUTION CENTRE
With over 10,000 SKUs, our West Yorkshire based UK distribution centre provides a next day delivery service to the branch network, along with bespoke customer site deliveries. Full branch integration, using our YESSS software, helps stock seamlessly flow to where it's needed. The NDC provides support for next day delivery to all branches throughout the UK, including online orders purchased through the eCommerce website.
CUSTOMER APP
Your personal account manager just got even better! Make payments, request quotes, with improved searching and a brand new look. Get the latest version of the YESSS Customer App for your smartphone or tablet device now. Download from the Apple App Store, or get it on Google Play.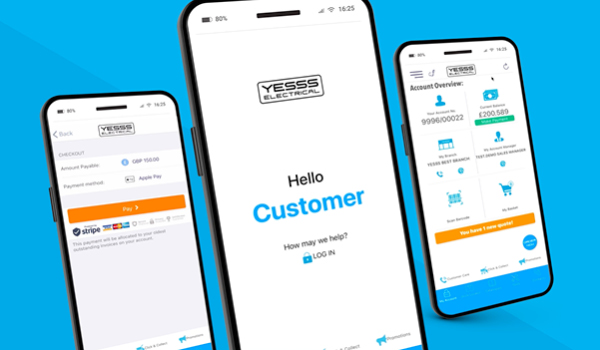 PRODUCT CATALOGUES
From switches to lighting and everything in between – 'The YESSS Book' - packed full of quality products at great prices and features over 4,00 electrical essential.

The YESSS Industrial Catalogue is your 320+ page guide to all things industrial, covering everything from controls to switchgear, hazardous lighting to power solutions, plus much more. Industrial to the Core!
Our EV & Energy Catalogue offers over 40 pages of EV chargers from Pod Point, Rolec, Wallbox and many more covering the home, workplace, commercial EV markets along with guidance throughout on energy saving solutions.