The Top Five Common Garden Lighting Mistakes to Avoid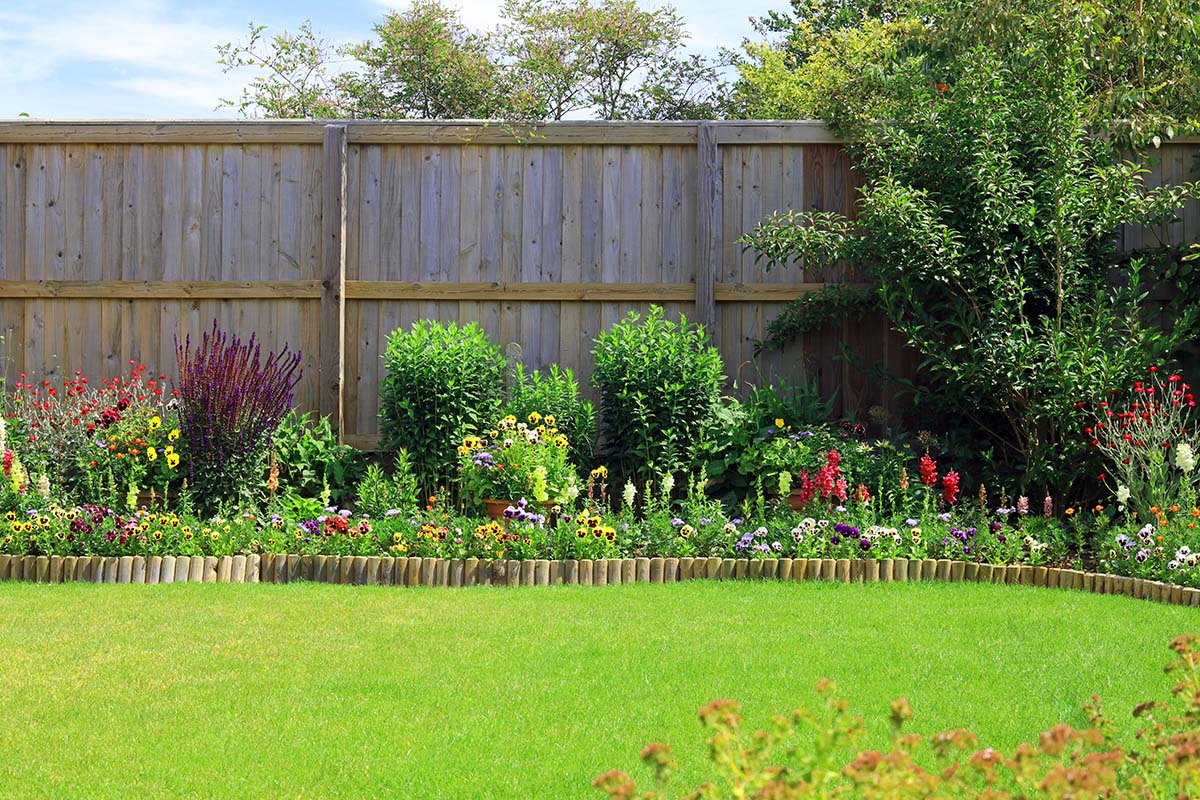 A south-facing garden provides maximum sunlight throughout the day, ensuring that your garden is highly usable and well-lit. However, with minimal cost and time, lighting a darker garden can have the same effect, and change the look and feel of the space completely. So how can homeowners replicate the effect of a south-facing garden and are there any lighting mistakes to avoid?
To find out, the YESSS Electrical outdoor lighting team surveyed 2000 UK residents to find out how happy they are with their current level of garden lighting and the factors that they prioritise when choosing outdoor lights. Based on the replies, the team found five common lighting mistakes that all homeowners should avoid.

The Demand for a Well-Lit Garden
UK residents are strongly in favour of homes with a south-facing garden. 91% of homeowners with a south-facing garden are happy with the amount of light that their garden receives.
In comparison, 71% of homeowners with an east/west-facing garden are happy with the lighting of their outdoor space, while just 47% of north-facing garden owners are happy with light levels in their gardens.
The usability of lighting with each garden orientation also results in higher prices for south-facing gardens.
Overall, 41.5% of British homeowners would pay between £500 - £1000 more for a sunny south-facing garden. However, 16.6% of potential homeowners would pay the grand sum of £7000 or more for a property with this feature. A further 14% of UK residents would pay £1000 - £2000 for a south-facing garden.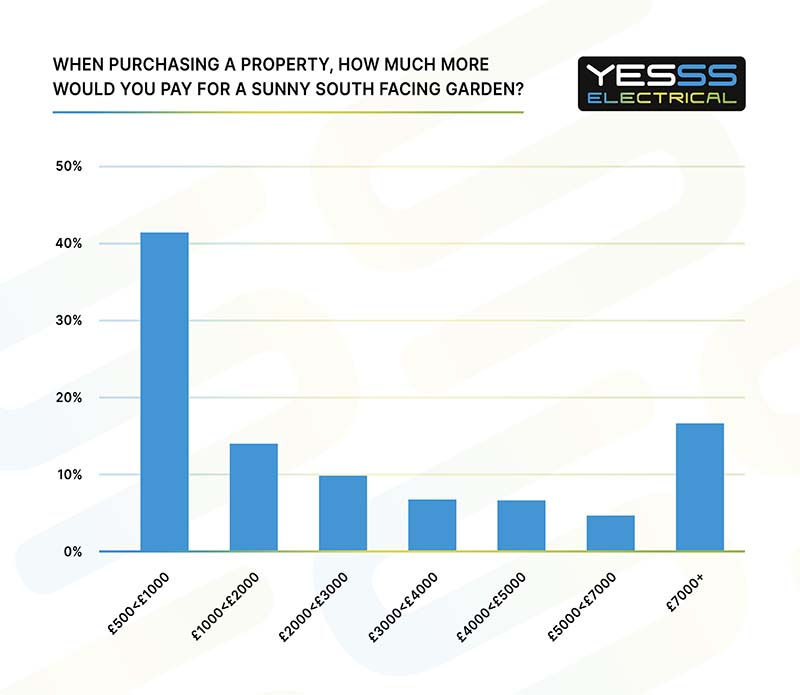 The Top Five Common Garden Lighting Mistakes to Avoid
1. Lighting every garden orientation the same
The position of a home is one of the critical aspects to take note of when designing your garden lighting. The biggest mistake that Brits make is choosing lighting that isn't the best suited for the position of their garden.
North-facing gardens are mostly shaded.
South-facing gardens are mostly lit-up.
East-facing gardens mostly receive light in the morning.
West-facing gardens mostly receive light in the evening.
Depending on the position of your home, you need to ensure it is correctly lit. North-facing homes will benefit from having more frequently placed, brighter outdoor lighting to ensure that the garden can be lit-up and used throughout the day.
On the other hand, south-facing gardens benefit from paired-back lighting as the garden is naturally lighter, especially during the height of summer.
East-facing gardens receive lots of lighting in the morning, while the area furthest from the house will likely only receive light during the evening. You could incorporate dimmable lighting into a seated area further from your home, so the area can be lit up during the morning, and lowered when light reaches this part of the garden in the evening.
West-facing gardens benefit from a similar setup. The end of your garden will receive light in the morning, while your home will shade the nearest part of your garden. Opt for dimmable lighting near the home, so that the zone can be brightened in the morning, and lowered when the sun lights up this area during the evening.
2. Not zoning your garden when planning the installation
There are a lot of factors that come into play when designing a garden, and one of the top questions that homeowners need to ask is, what are my long term plans for my garden?
The plans for the use of the garden space are very important to the placement of lights. For example, If you plan on having an outdoor cooking area, a play area for the family and a space for plants, then varying amounts and styles of lighting need to be accounted for.
Use a stronger, more direct lighting, for areas such as an outdoor cooking area, as these will ensure that you can see what you're doing at all times. Wall lighting and brick lighting is effective for adding a gentler ambience to a relaxing outdoor space. And bollard lighting can provide both ambiance, and light up a path through the garden.
For a complete guide on how to style your garden, see our blog post here.
3. Purchasing lights without looking at brightness levels or dimmable options
In the evening, too much or not enough light can affect the ambience of a garden. Too little light prevents your garden's best features from being displayed. Too much light can create a football field effect, great for large venues; however, it doesn't allow for a relaxing atmosphere.
The size of the garden does affect the amount of lighting you should place at various points. Solar lights could be used if you have a small garden as they emit enough soft light to gently illuminate a smaller garden.
The opposite is true of a more extensive garden. If you have a long and large garden, it may be worth considering some brighter lighting towards the end of the garden and softer lighting closer to the house/outdoor dining areas. This balance will produce a design and function-led garden that is practical and ambient.
When selecting garden lighting, 30.7% of UK residents said they prioritise choosing solar lighting. The most popular response (31.2%) is to ensure that the lighting has a low running cost.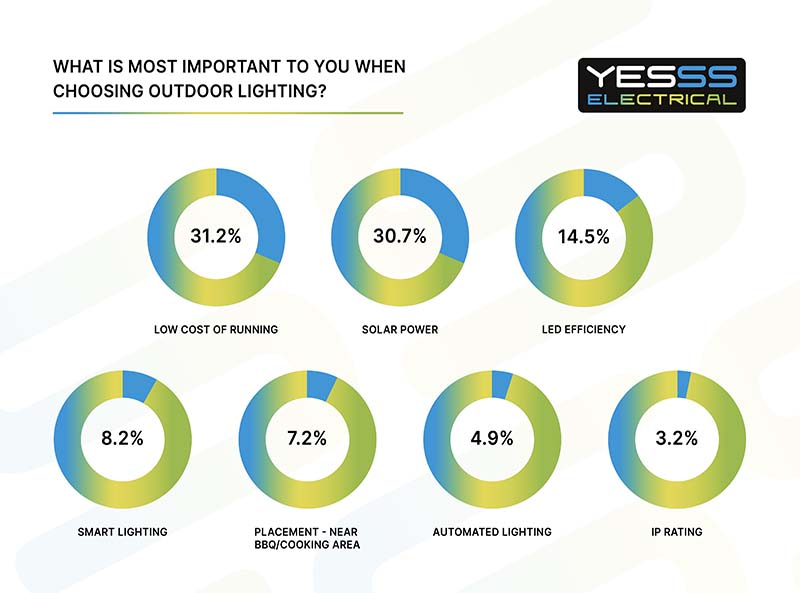 4. Leaving the lighting of your garden until last during a remodelling
When designing a garden, lighting may not be the first thing on your mind. However, it is one of the most critical decisions in the early stages of remodelling as laying wiring beneath patios and lawns, and hiding it in fences, walls, and structures, produces a finished and tidy appearance.
We asked the British public which lighting style was their favourite; what was the result? The results show that 18% prefer ground lights and 17% prefer wall lights. Recessed overhead lighting is the least popular choice, with only 5.5% of people selecting this option.
For garden plant borders, make use of spike or bollard lights. With the right design, these lights can bring your borders to life in the evening and at night. 12.1% of people choose spike lights and 6.5% choose bollard lights as their favourite lights for outdoor uses.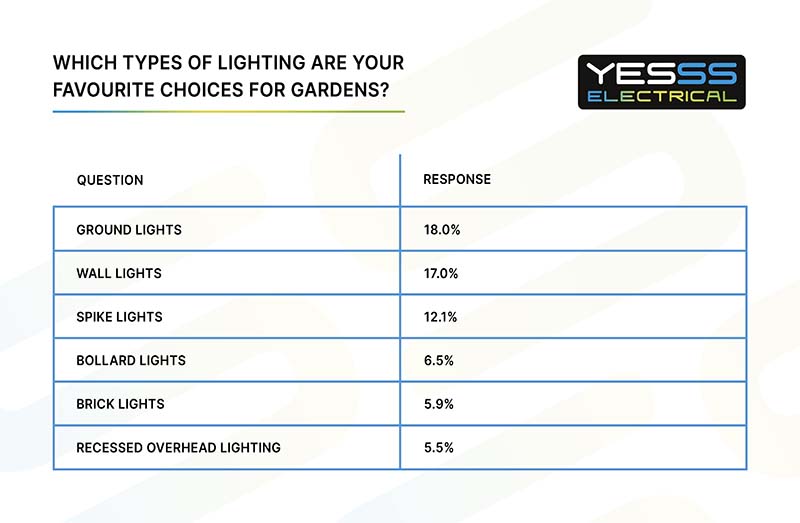 5. Not getting technical with IP ratings
Although only 3.2% of people prioritise IP rating when choosing outdoor lighting, it is one of the most important things to consider when buying lights that need to withstand the elements. IP stands for Ingress Protection, and is the rating of protection given to the light fitting against water and dirt.
The IP rating is the best way to check the longevity of your garden lighting.
When checking the different levels of protection it is good to keep in mind the standards for different types of light below:
- Standard Garden Lights - should be IP44+
- Deck Lights & Patio Lights - IP65
- Water Lights - IP68
So, there we have our guide to the five main mistakes to avoid when lighting gardens. Browse our outdoor lighting selection with these tips in mind, to ensure you create the perfect functional and ambient outdoor space.
About YESSS Electrical
YESSS Electrical are the fastest growing electrical wholesaler in the UK with over 95 branches nationwide. Locations include London, Sheffield, Leeds, Nottingham and even the Channel Islands.
The YESSS Lighting team supplies efficient indoor and outdoor lighting solutions for home and work to both the trade and B2C customers. They offer a wide range of light types including bollard lights, brick lights and spike lights.