How can Small Accommodations and B&Bs Utilise the 2022 EV Charging Grant Scheme?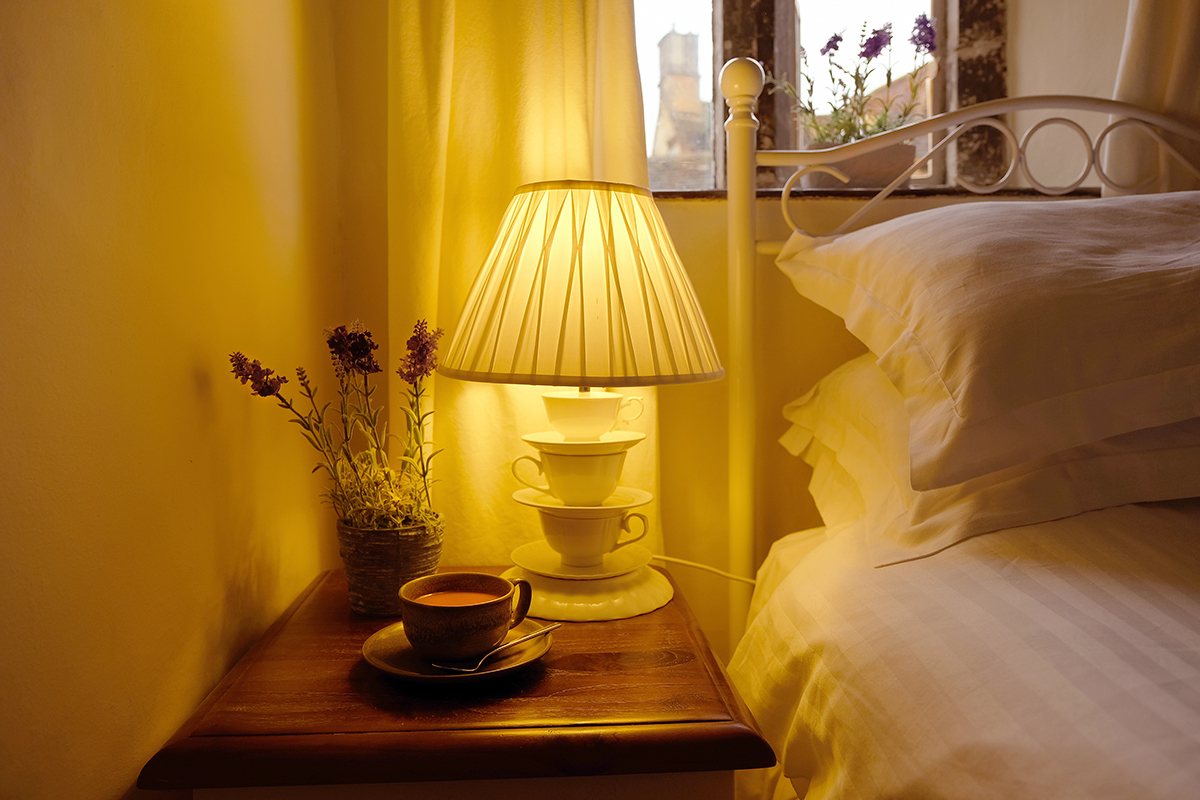 What Is The Workplace Charging Scheme EV Grant?
The Workplace Charging Scheme, or WCS, is a government scheme run by the Office for Zero Emission Vehicles (OZEV). It provides both charitable and small accommodation businesses support towards costs of the purchase and installation of EV charge points.

If eligible, the scheme allows business owners to apply for up to 75% off the cost of purchasing and installing EV chargers. However, it is capped at £350 per socket and no more than 40 can be installed across sites.

Who Is Eligible For The Grant?
Business Categories
The Government has set out definitions of a small accommodation business. Using the Standard Industrial Classification (SIC) codes the business must fall under the following categories: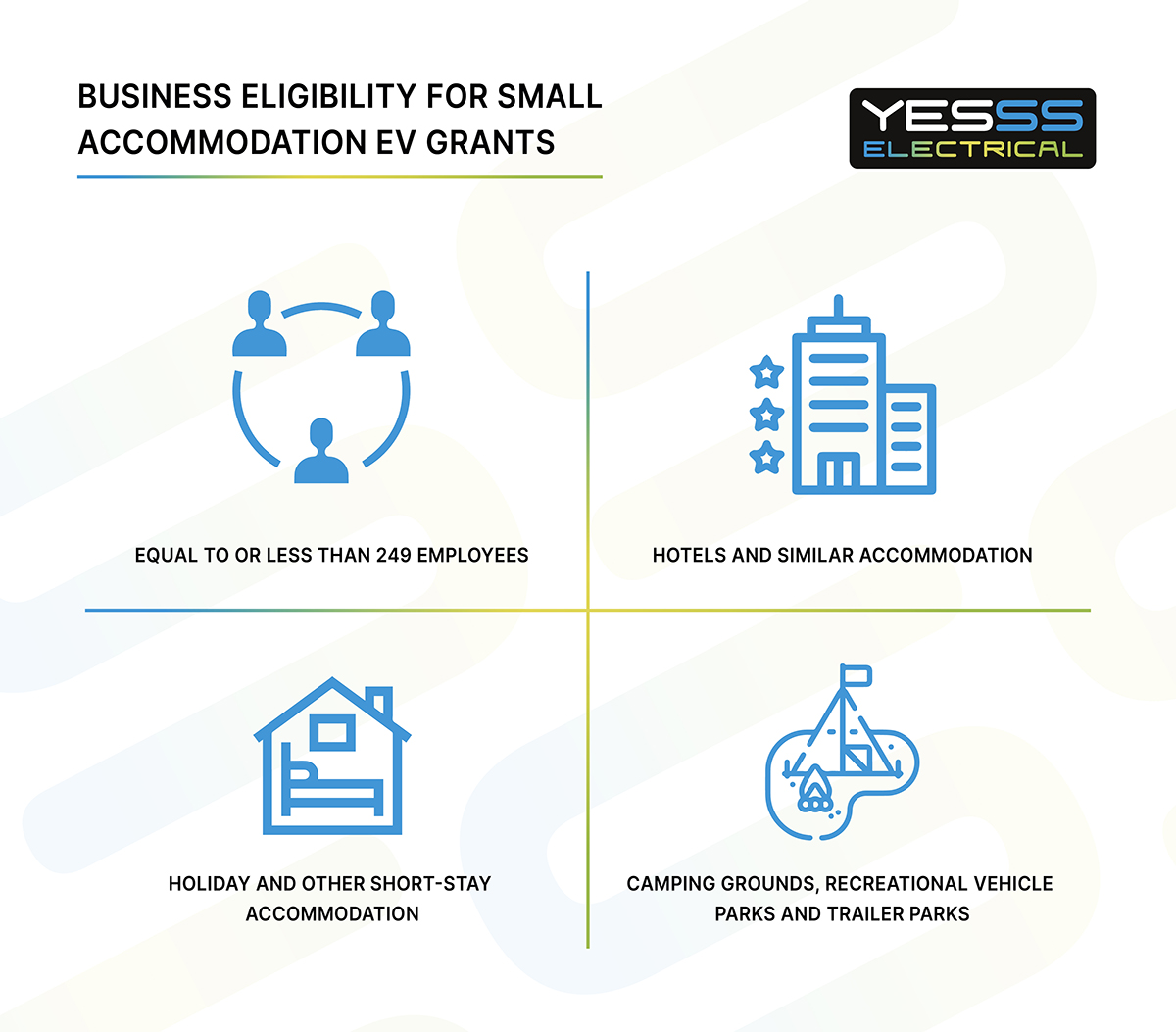 Equal to or less than 249 employees
5510: hotels and similar accommodation
5520: holiday and other short-stay accommodation
5530: camping grounds, recreational vehicle parks and trailer parks
Eligibility Factors
The Government has also laid out a list of eligibility factors below. If your small accommodation or charitable business meets these criteria, then you may be eligible to apply for the WCS grant.

Your business must:

a registered charity.

an accommodation business with 249 employees or less.
have received – or have currently pending at the time of application – less than €200,000 of public support in the last 3 financial years (meaning the previous 2 financial years plus the current financial year) and satisfy the state aid requirements for de minimis aid
declare a need for EV charging equipment (you do not need to possess a plug-in EV)
be located in England, Wales, Scotland or Northern Ireland (applicants in the Channel Islands and Isle of Man are not eligible)
have dedicated off-street parking. The parking facilities must be clearly associated with the applicant's premises and be either on-site or a reasonable distance from the place of work. There is no restriction on who may use the parking, be it customers, guests, visitors, staff or others
own the property or have consent from the landlord for charge points to be installed at all the sites listed in the application
The Impact on Holiday Accommodation Type, Destinations, And Cost Across The UK
The YESSS Electrical EV team carried out research into how many small holiday accommodation businesses are already offering EV charging.

The analysis highlights the benefits of having an EV charger, such as, the ability for businesses to increase the price per night. The research also reveals the UK holiday destinations that have the fewest EV chargers. Installing a charger in these destinations will create an attractive feature for your small business, and encourage additional business from eco-conscious holidayers. The analysts also investigated the locations and type of accommodation that have the largest amount of EV sockets installed already and areas for improvement.

Which holiday accommodation is benefitting already?
In the UK only 4.5% of small accommodation businesses offer EV charging ports. Resorts represent the biggest share of the market, taking 14.4%, followed closely by country houses at 13.7%.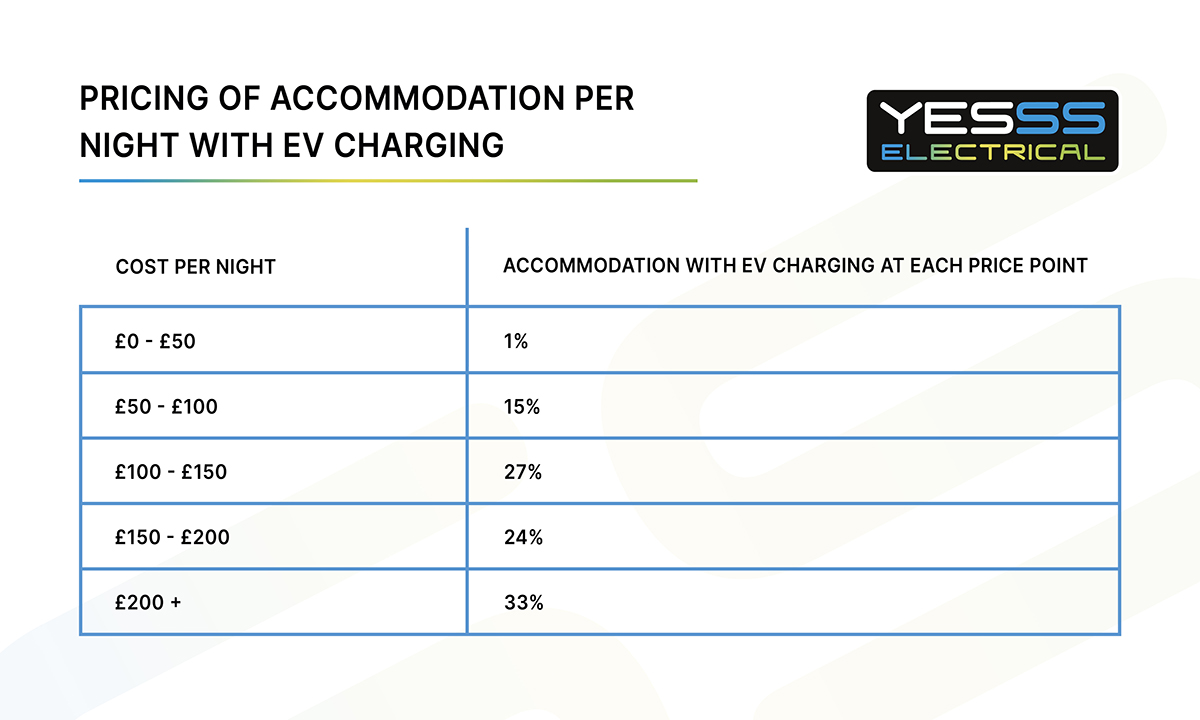 The type of accommodation that has the greatest room for improvement was bed & breakfasts and holiday homes. Only 4.8% of bed and breakfasts across the UK and 1.8% of holiday homes offer EV charging. This signifies that there is lots of room for improvement within these accommodation sectors.
Which locations have the highest amount of accomodation with EV charging?
In Lincolnshire, 5.5% of accommodations benefit from EV charging stations. It is closely followed by West Sussex, where 5.2% of holiday rentals include an EV charger.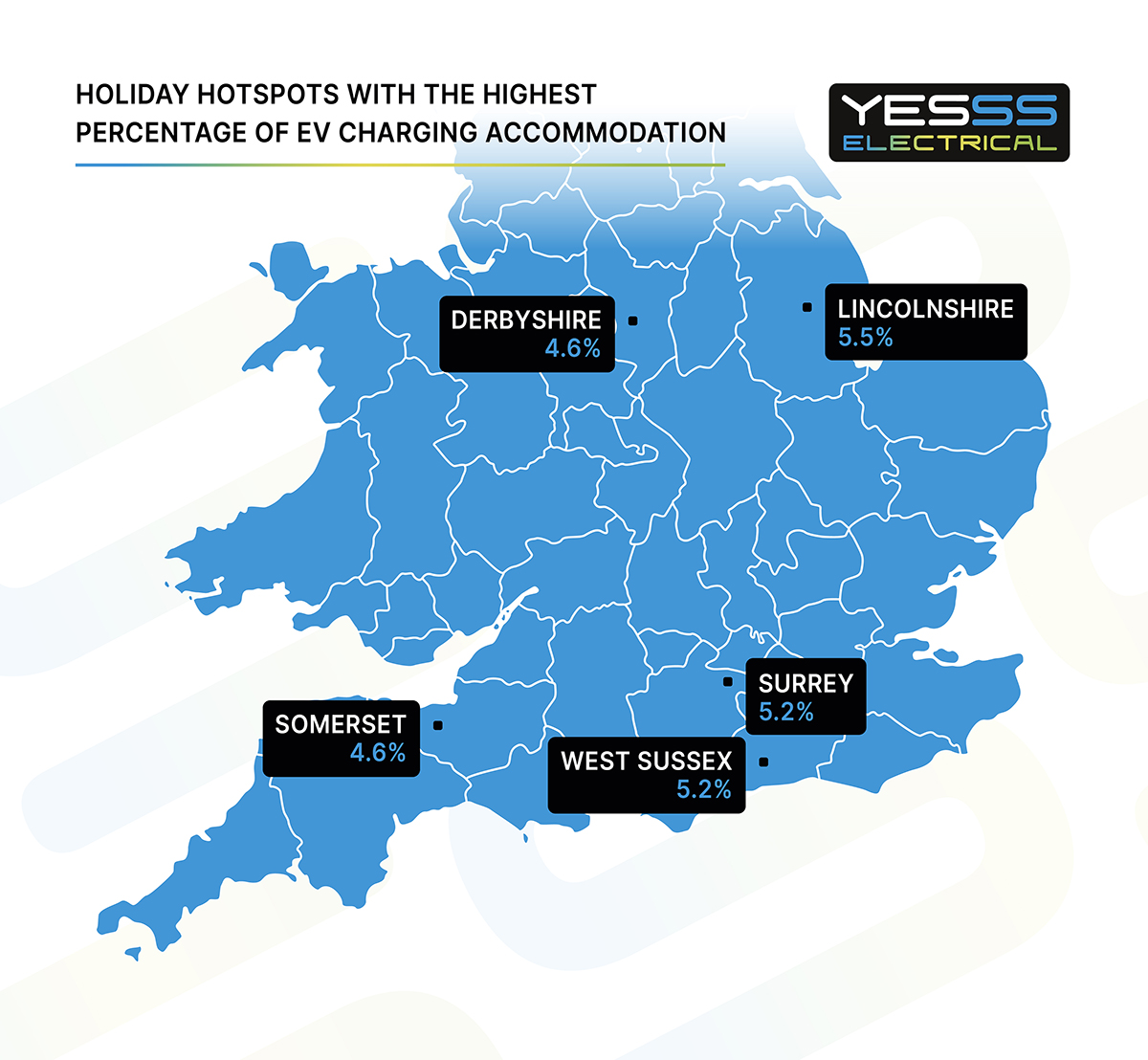 However areas such as Norfolk, Wiltshire and Cambridgeshire have the lowest number of EV charging availability at holiday accommodation.
A total of 2.2% of Norfolk's holiday rentals had charging stations installed, making it the region with the fewest chargers. Norfolk is home to popular attractions such as the Norfolk Broads, Sandringham estate, and Holkham Beach. A large number of tourists visit Norfolk every year. The installation of an EV charger will enhance the appeal of your holiday rental and make you stand out from your competitors.

Additionally, only 2.2% of holiday accommodation in Wiltshire offer electric vehicle charging. Cambridgeshire saw a marginal increase with 2.4% of rentals having EV charging.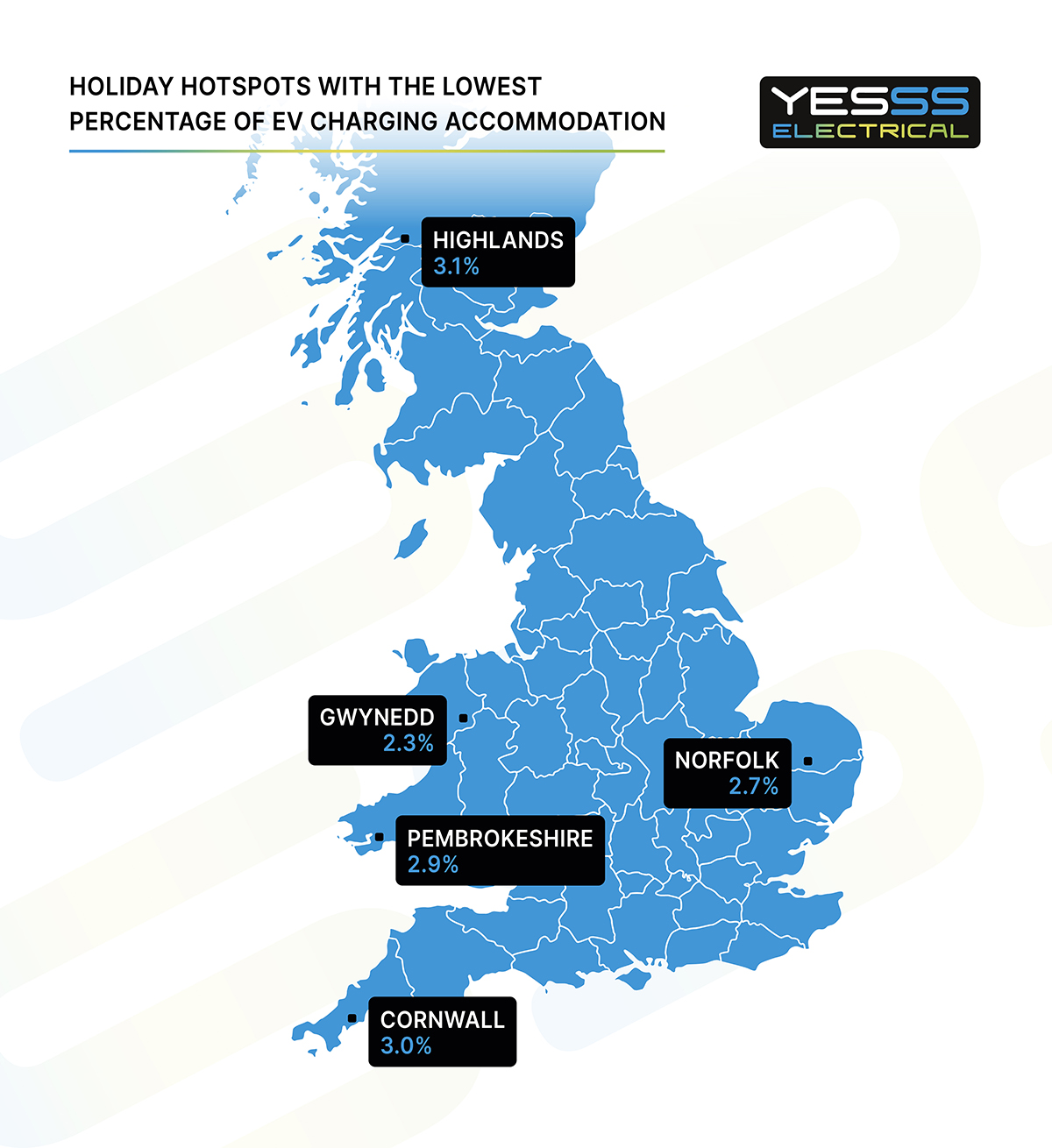 Is your small accommodation business or charitable organisation in these areas? If so, this grant could give you a USP to offer to potential visitors and an edge on competitors in the area.
Can it improve your price per night?
The team compared the pricing of locations with EV charging across the UK, versus locations without charging.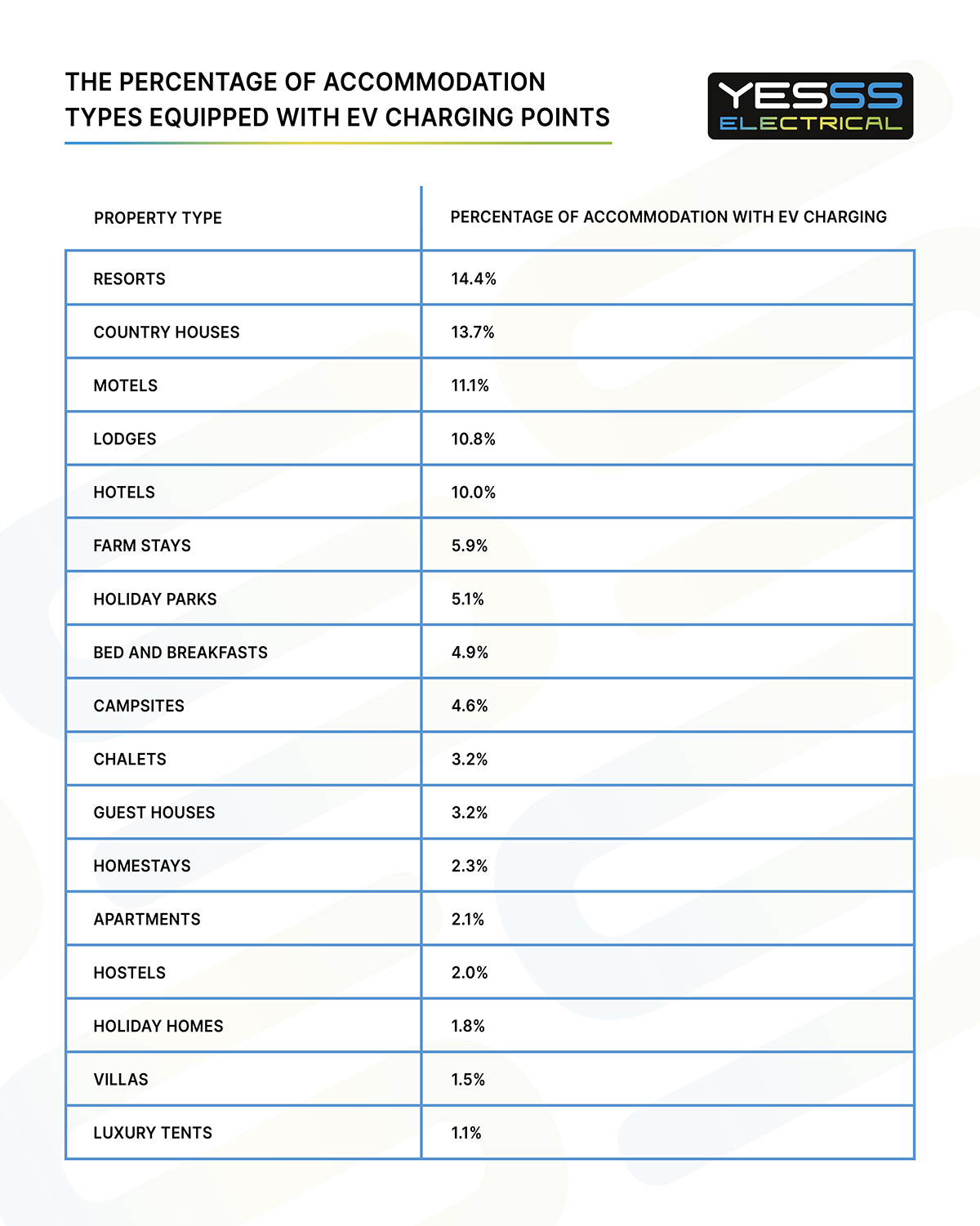 According to the research, 51% of holiday rentals charge between £100-£200 per night. 33% of accommodation, that offer EV charging, is available at a charge of £200 or more per night. Only 16% of small accommodation businesses charge less than £100 per night.
This shows a positive correlation between having EV socket availability and the charge per night being higher, demonstrating that the grant has the potential to increase revenue as more holiday makers are looking to accommodation that has this perk.

How can we help?
YESSS EV & Energy offer a full turnkey service from concept, through planning and design all the way to delivery, sign off and assistance with grant claims. As the specialised renewables energy division for the UK's fastest growing electrical wholesaler, our specialist team combine over 10 years of EV charging industry expertise. We are here to offer you the support and understanding of the solutions, their operation, ongoing use and the value it can bring to your rental or resale properties. With the increase in intelligence in EV charging solutions there is now a much wider opportunity to create ongoing benefits for residents and tenants but create new recurring revenue streams via the resale of electricity.

About YESSS Electrical
We're the fastest growing electrical wholesaler in the UK with over 95 branches nationwide and have been established in Europe for almost 50 years. Locations include London, Sheffield, Leeds, Nottingham and even the Channel Islands. Each branch has a helpful knowledgeable team, with their own delivery drivers.

The YESSS EV & Energy department supplies EV charging, solar, wind, battery storage, and energy-saving options to customers and companies across the UK and Europe. They supply all major renewable energy brands and tailor each offering with marketing leading consultancy, ensuring the solutions offered are perfectly suited to each clients' needs.

Through the electric vehicle charger range, YESSS Electrical offers domestic EV chargers, commercial and workplace EV chargers, along with a host of charging accessories to meet any requirement.

--Methodology--
We reviewed EV charging available accommodation that is taking bookings between 3rd June 2022 - 6th June 2022 on booking.com.