The Top 10 Funniest CCTV Moments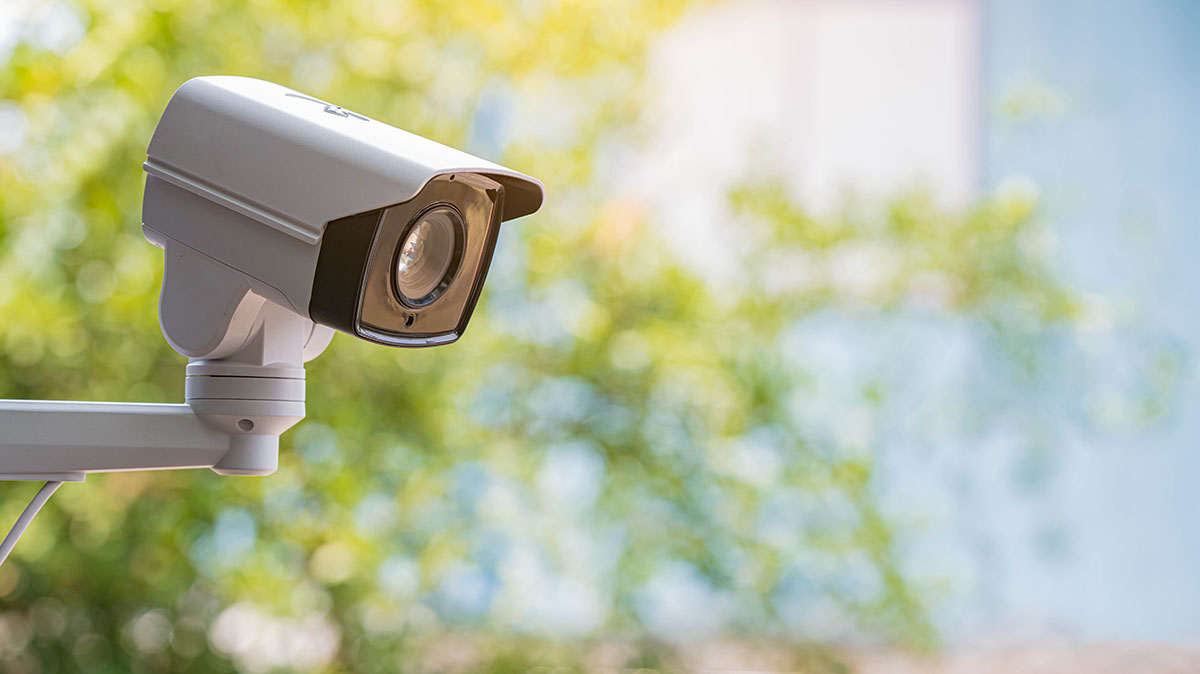 Installing CCTV has never been as important. Since the COVID-19 pandemic, security risks have altered, from spending everyday indoors to returning back to our daily lives where our homes are no longer monitored 24/7.
Sure, CCTV systems boost home security. But, they also catch some of the funniest things. That's why, YESSS Electrical have reviewed 50 CCTV videos, testing four participants' heart rates to find the funniest moments caught on camera.
How Does Laughing Affect the Heart?
According to The Heart Foundation, laughing is extremely beneficial, lowering stress levels and preventing high cholesterol. Not only is laughing good for your mental health, it also increases your heart rate, improving vascular function and reducing the risk of heart disease.

Based on which CCTV footage made the heart race the most, the team found the top ten funniest CCTV moments.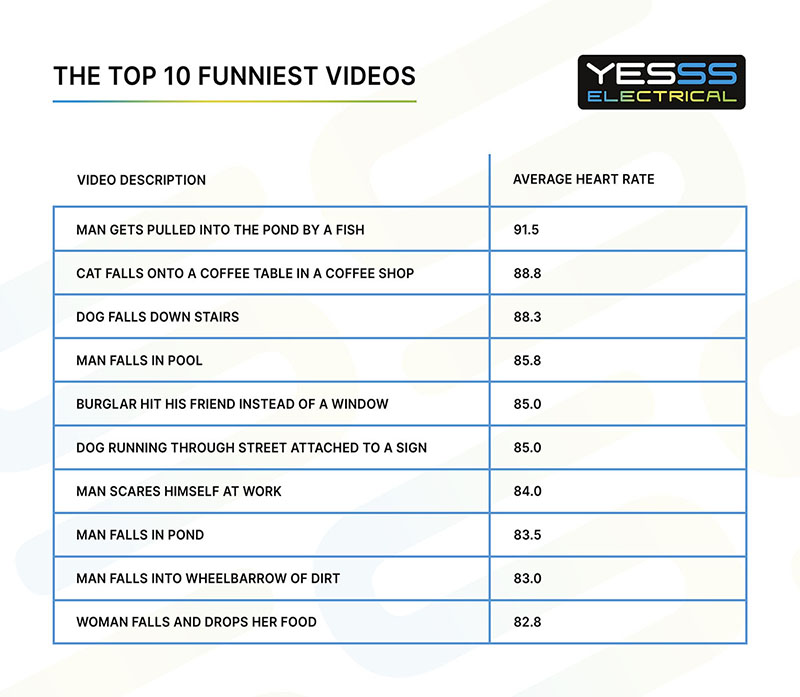 The Top Five Funniest CCTV Moments
A Man is Pulled Into a Pond - 91.5 BPM
Fishermen will do anything to catch a fish. That's why this angler has been caught getting pulled into a pond. This video has an average heart rate of 91.5 BPM.
In this clip, a man is fishing at a pond when suddenly, he gets a bite. The fish is so strong that another man attempts to help him reel it in. The other man eventually lets go and the angler falls into the pond. The fish then continues to drag the fisherman around the pond as he refuses to let go of the rod.
This clip was noted as the funniest CCTV moment. According to Medical Daily, the brain recreates the activity of the person who is actually falling, provoking laughter. That's why we find people hurting themselves incredibly humorous.
The clip can be found here at timestamp 05:02.
A Cat Falls Onto a Coffee Table - 88.8 BPM
Cats tend to be extremely vigilant but curiosity often takes over. This cat decided it was going to land onto a coffee table full of five men enjoying their breakfast. This video has an average heart rate of 88.8 BPM.
In this video, five men are sitting having coffee outside a cafè, when suddenly, a cat lands on the table from above, knocking everything off.
The clip can be found here at timestamp 00:00.
A Dog Falls Down Steps - 88.3 BPM
Dogs are loyal, loving creatures but they can be clumsy at times. The third funniest CCTV moment captures a dog falling down a flight of stairs outside a home. This footage had an average heart rate of 88.3 BPM.

The clip shows a man walking up the stairs, with his two small dogs. As they both run after him, one of the dogs reaches the top of the steps and misplaces its foot, rolling sideways back down the flight of stairs. The man then runs after the dog, cuddling it and carrying it back up the stairs.
The clip can be found here at timestamp 02:38.
A Man Falls Into a Pool - 85.8 BPM
Trying to navigate a messy garden at night isn't easy, that's why it is probably best to avoid installing a pool in your driveway. The fourth funniest CCTV video moment captures a man falling into a pool, while out in his garden after dark. This clip has an average heart rate of 85.8 BPM.

The man forgets about the pool on the driveway and misplaces his foot, grabbing the car door handle to steady himself, falling sideways into the pool. Completely submerged, the man attempts to get out of the pool and falls straight back in.
The clip can be found here at timestamp 03:13.
A Man Hits His Friend Instead of the Window During a Burglary - 85 BPM
Burglars aren't always the best at planning things. This fifth most funniest CCTV moment captures a man accidently hitting his friend with a brick instead of the window during a burglary. This video has an average heart rate of 85 BPM.

The CCTV clip captured two men, both with bricks in their hands walking up to a window, attempting a break in. The burglar on the right throws a brick at the window just as his friend moves positions, resulting in him being hit in the face. The man then dives dramatically onto the floor.
The clip can be found here at timestamp 03:26.
The Funniest CCTV Categories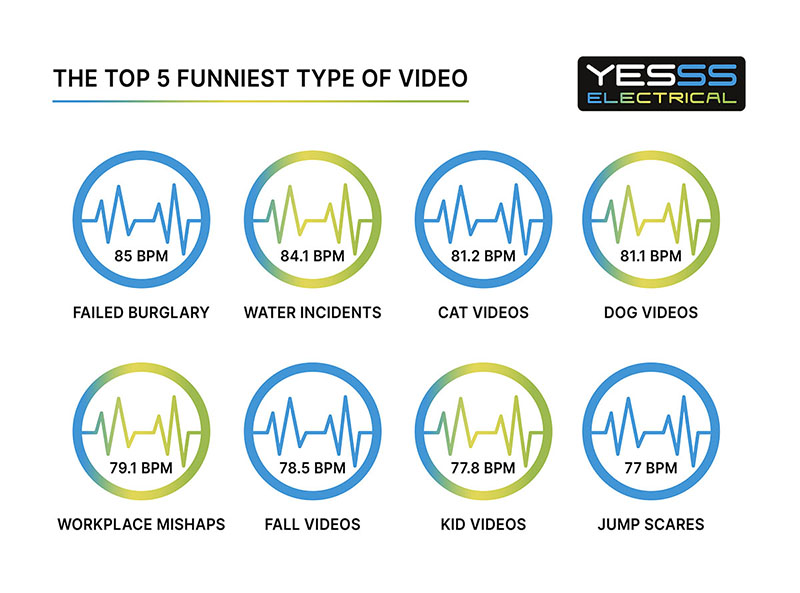 The team at YESSS Electrical then categorised which types of videos viewers found the funniest. The top five were as follows:
Failed Burglaries
With an average heart rate of 85 BPM, failed burglaries were rated the funniest video category.
The humour behind failed burglaries is most likely triggered by the foolishness of the individuals attempting a break-in.
Water Incidents
With an average heart rate of 84.1 BPM, water incidents were rated the second most funniest video category.
Similar to people falling on ground, our brain replays the activity of the person or animal who is falling into water, provoking humour.
Cat Videos
With an average heart rate of 81.2 BPM, cat videos were rated one of the funniest video categories.
According to Very Well Mind, animal videos have stress-relieving benefits, and can in-fact lift your mood, leading to laughter and happiness.
Dog Videos
Dog videos were also rated one of the funniest video categories, with an average heart rate of 81.1 BPM.
Not only are animal videos incredibly funny, they're also great mood-changers, inflicting positive emotion.
Workplace Mishaps
Workplace mishaps were among the funniest CCTV video moments, with an average heart rate of 79.1 BPM.
The Top Five Benefits of Installing CCTV
Sure, CCTV can provide us with some of the funniest videos ever recorded, but surveillance systems are also incredibly important for security purposes. Here's the top five benefits of installing a surveillance system at home or at work:
Prevents Crime
CCTV can help to deter intruders and prevent crime and theft.
Provides Evidence
Surveillance systems provide evidence to the police in the event of a crime, leading to prosecution.
Gives Peace of Mind
A CCTV system will provide you with peace of mind that your property is safe whilst you're elsewhere. Most systems can be accessed via a mobile app, allowing you to check on your business or home from anywhere in the world.
Keeps Staff or Family Secure
Whether you're looking to have CCTV installed at home or in your commercial space, surveillance cameras help to protect staff or family members from crime. CCTV also allows you to monitor your employees to check whether they are following the correct safety procedures.
Reduces Insurance Premium
Installing CCTV can actually reduce your insurance premium.
Adam Padley, Head of Security for YESSS Electrical, commented: "Installing CCTV is essential to deter intruders.
"With the cost of living increasing, theft is at an all time high, so protecting your home and business has never been more important. Opting for a CCTV system provides you with the evidence you need in the event of a break-in, so criminals can be identified and brought to justice.

"Not only will having CCTV decrease your insurance premium and leave you at an incredibly low risk of theft, you'll never miss out on the humour it provides."
For more information on the security systems YESSS Electrical supply, contact us today on 01924 227941.
About YESSS Electrical
YESSS Electrical are the fastest growing electrical wholesaler in the UK with over 95 branches nationwide, including London, Sheffield, Leeds, Nottingham and even the Channel Islands.

The YESSS security team supplies a range of CCTV surveillance systems for both homes and businesses alongside keyless door entry systems, and security alarms.