Visualite - Sensory & Well-being Lighting Solutions

VISUALITE - VISUALISE YOUR WORLD!
Explore our range of bespoke Visualite Lighting Panels and discover how you can transform the feel and atmosphere of your commercial or domestic space with LED sky ceilings and LED sky panels.

WHAT IS VISUALITE?
Visualite solutions are sensory lighting panels that improve the experience of rooms, providing spaces with a scenic and unique source of lighting that creates the effect of natural lighting indoors. Nature and natural lighting provided by the LED wall panels and sky panels improve the atmosphere of a space by reducing any risk of claustrophobia and taking away a clinical feel.
Visualite lighting panels, through their stunning presentations of nature, can help to reduce anxiety and enhance well-being. LED wall panels depicting the natural world use biophilic design to aid in improving the physical and mental health of viewers, as the human body responds positively to connecting with nature.
Visualite LED ceiling lights and wall installations are bespoke to suit the needs of specific spaces.
So, whether you're looking for rustic scenery to create a more calming environment, or want to add windows into nature to a dark office – you're sure to find the best Visualite panel option for your property with YESSS Electrical.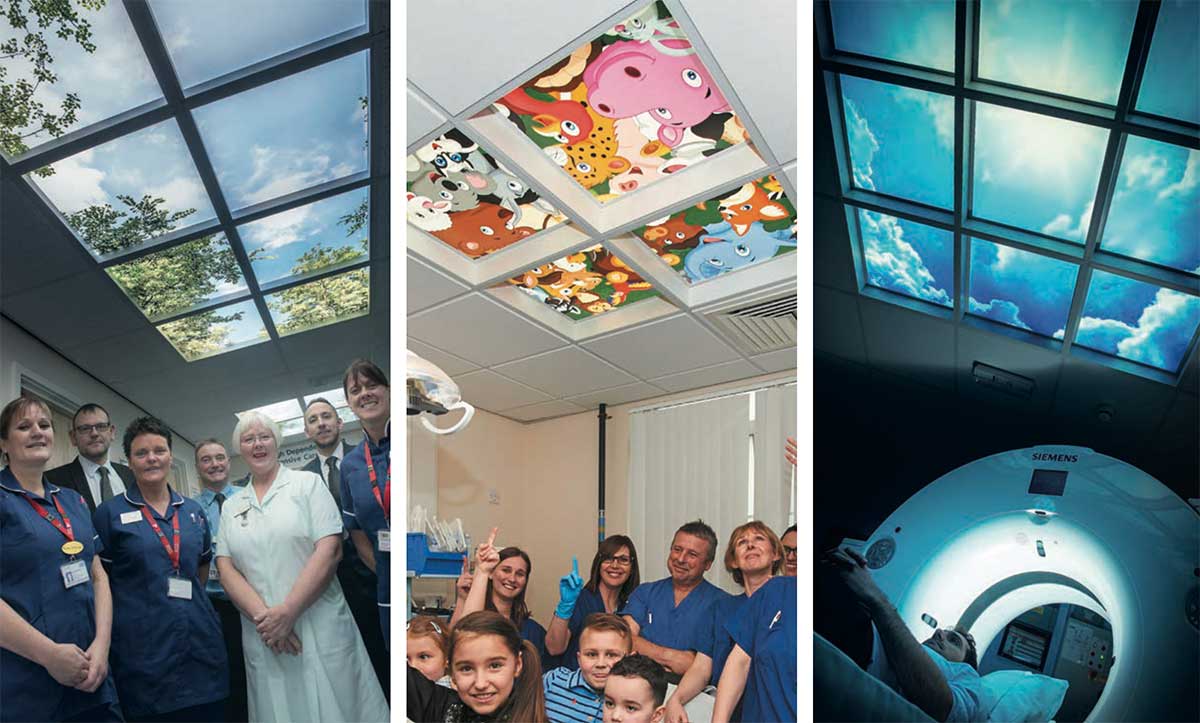 WHAT'S UNIQUE ABOUT VISUALITE?
With Visualite, the LED wall panels and LED sky panels are only part of the picture. Different scenes, colours, and details suit different applications, so they need to be carefully selected by specialists.
Our team of experts have years of experience selecting and installing images and scenes for different applications, and provide this experience to every customer.
The Visualite products utilise VTEC, a lens in front of the light source, to create the scenes on the LED wall panels and LED ceiling lights. Each box is custom made, and are far superior to stick-on glass decals, as the product can be cleaned without any peeling and will look brand new for years. As a result, Visualite products are clinically approved, as they can easily withstand the thorough cleaning required in clinical applications.
The quality of printing on our LED wall panels and LED ceiling lights is phenomenal. The systems are designed to create an amazing lighting effect and ambience, amalgamating a high quality light source and bespoke image into one.
We have a plethora of exceptional high definition images for you to choose from for your LED wall panels and LED ceiling lights. However, if you'd prefer a more personal touch, we can incorporate your own images and artwork into the LED sky panels to provide a more bespoke and unique product.
KEY BENEFITS OF VISUALITE LIGHTING PANELS
High-quality, calming source of light

Diverse choice of artistic displays
Personalised high definition images
Bespoke LED wall panels and LED ceiling lights to suit your specific interior
Helps to calm anxiety and create a better environment
Enhances well being by mirroring natural scenes
Clinically approved Visualite lighting systems is well-suited to medical environments
Built with a tough outer protective coating
A range of framing options to choose from
Fully wipeable surface for ease of maintenance and product longevity
Expert advice on the right displays for different applications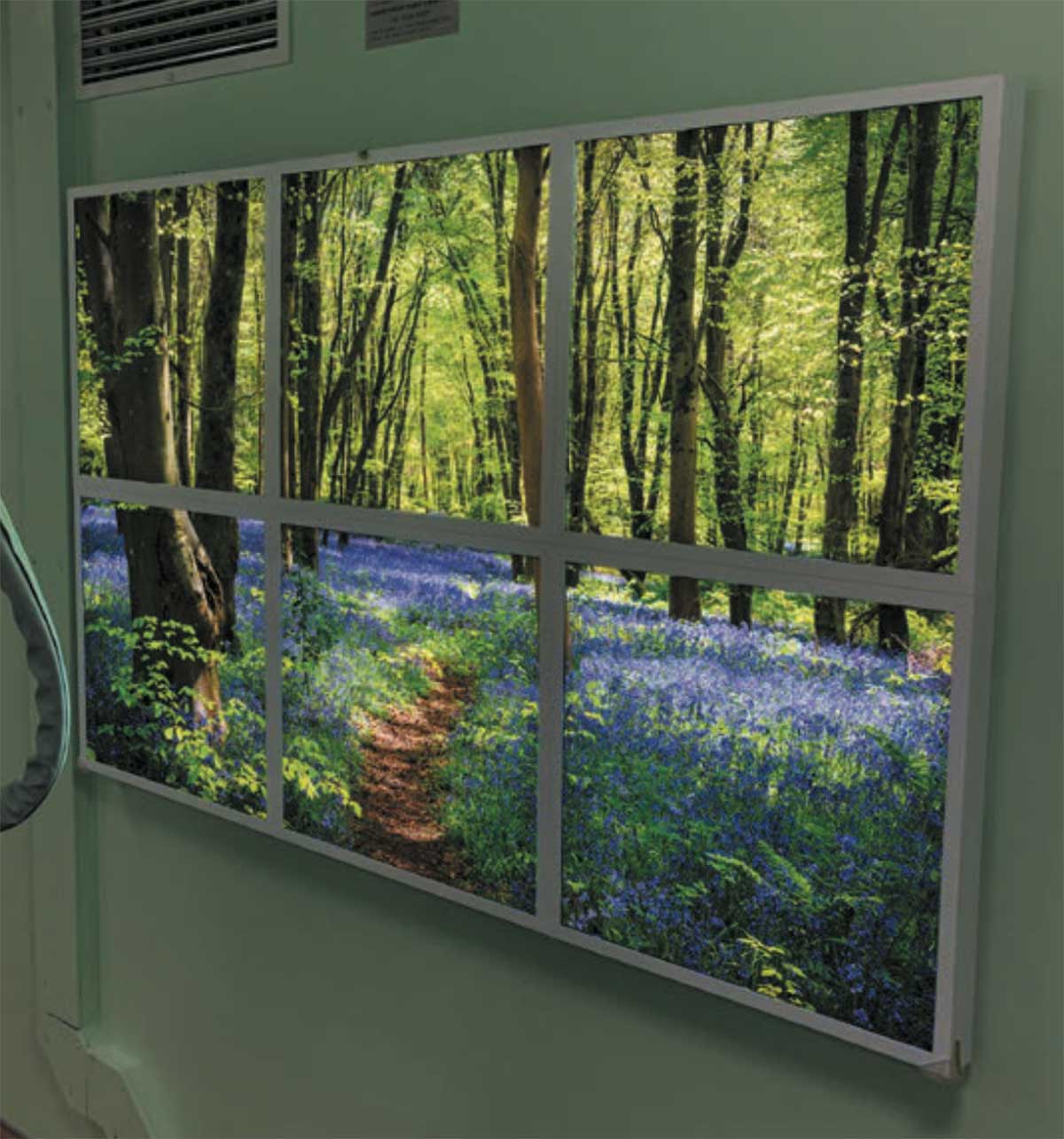 VISUALITE FOR CLINICAL APPLICATIONS
With Visualite, the end user dictates the product requirements, as every design is created to meet the needs of a certain application.
Visualite emphasise the importance of these three elements in clinical settings:
Quality - the end user is a member of staff who will see the product daily, or a patient receiving the best treatment and care with flawless clinical equipment. The high-quality of Visualite products ensures that minor details meet the quality seen in clinical equipment.
Timelessness - the product has a long lifespan, so designs need to be relatable and relevant to viewers for years to come.
Fit for purpose - our team of consultants emphasise that while Visualite products are stunning, the role and placement of the product take priority when delivering products for a clinical application.
AWARD WINNING
Visualite products transform clinical spaces, but don't just take our word for it. Here's our recent award at the European Healthcare Design Awards.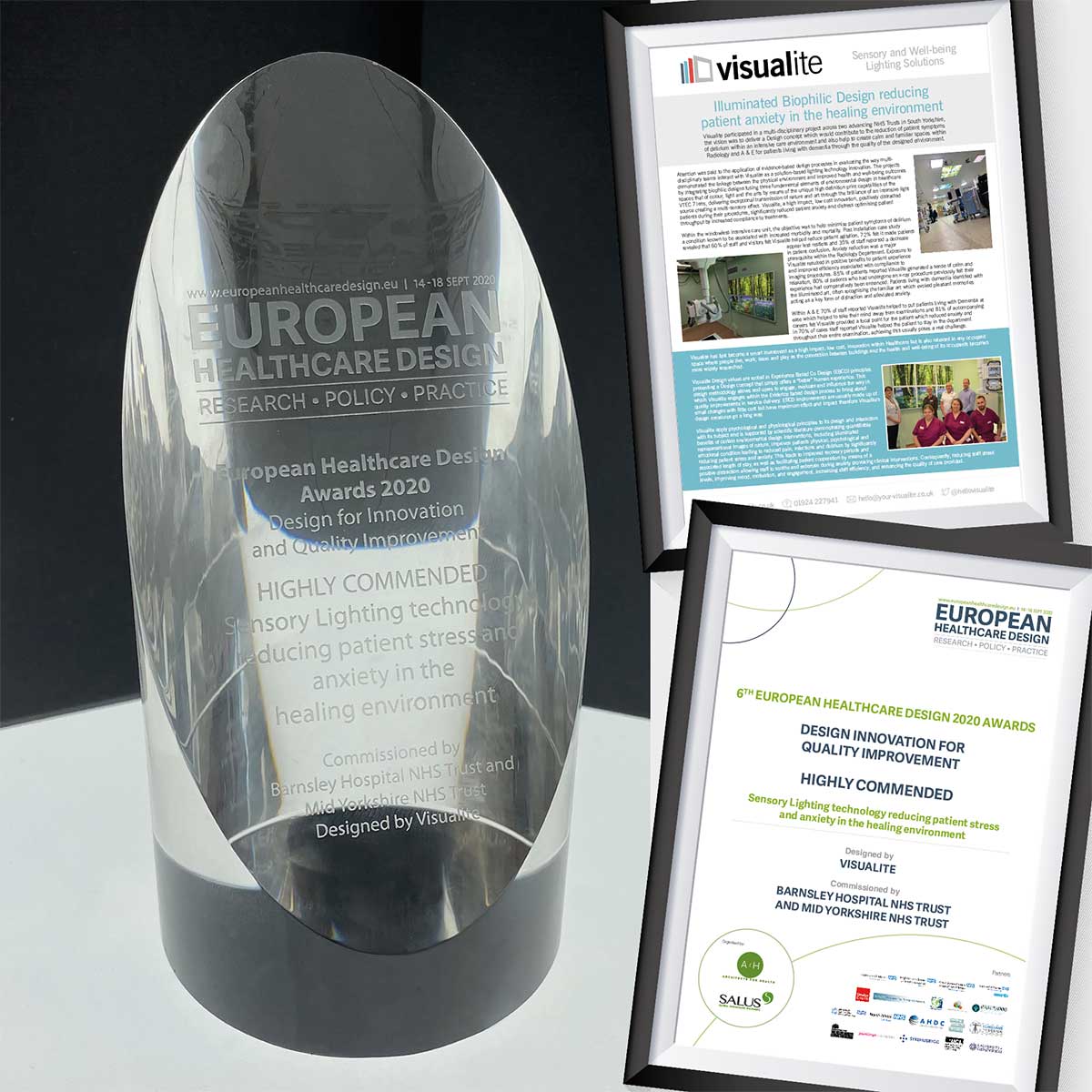 VISUALITE FOR THE NHS
At YESSS Electrical, we take pride in providing lighting for hospitals and healthcare facilities. We are committed to continuing to help revolutionise healthcare lighting and lighting in medical spaces to help eliminate the clinical feel of healthcare environments for patients and staff.
Visualite lighting panels have been installed into many healthcare and dental practices across the UK. Adding this type of lighting in hospital environments has proven to help improve the atmosphere in these spaces and reduce negative emotions.
Visualite healthcare lighting design solutions are used to provide lighting in hospital locations such as:
The Rotherham NHS Foundation Trust
University Hospital Southampton NHS Foundation Trust
Sheffield Children's NHS Foundation Trust
NHS London Royal Free
Barnet Hospital
BMI Mount Alvernia Hospital
NHS Skegness
Rebecca House, Children's Hospice, Isle of Man
NHS Barnsley Children's Theatre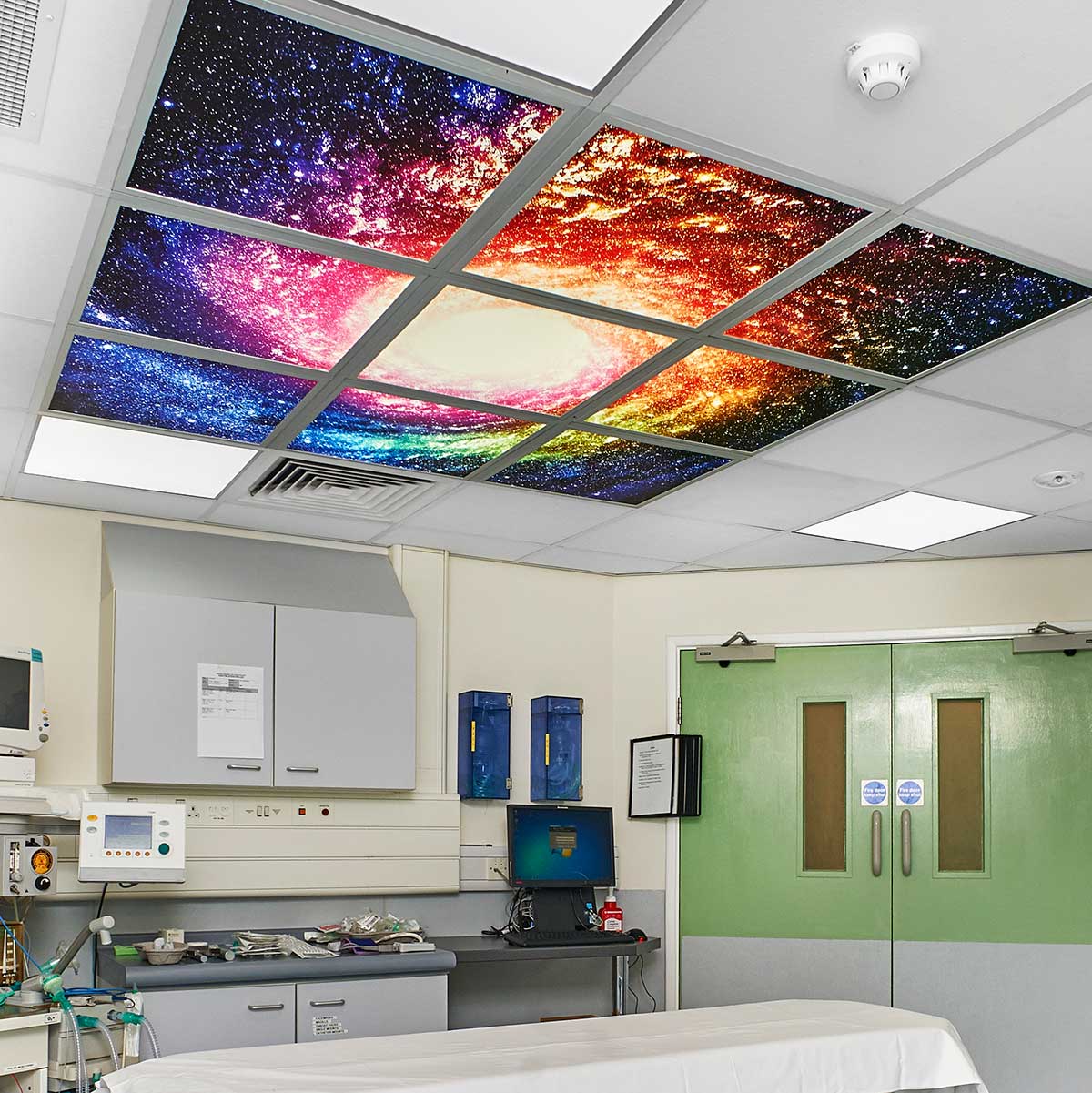 BARNSLEY & ROTHERHAM HOSPITAL CASE STUDIES
We have installed Visualite lighting panels in both Barnsley and Rotherham hospitals to help improve their interior and create a more calming and positive atmosphere for patients.
Barnsley Hospital selected a series of natural landscape panels, whilst Rotherham Hospital chose a range of LED sky panels, natural landscape panels and cartoon character panels for their children department.
We conducted a survey at each hospital following the installation of the Visualite panels.
Here are the results of the surveys:
Barnsley Hospital
85% of people asked (including hospital staff and patients) stated that the visual lighting display makes the area feel more welcoming
83% of patients asked stated that the visual lighting display made the environment more pleasant and relaxing
75% of people asked (including hospital staff and patients) said that the visual lighting display improves the mood of the environment
63.5% of patients asked stated that the visual lighting display helped them to relax prior to their surgery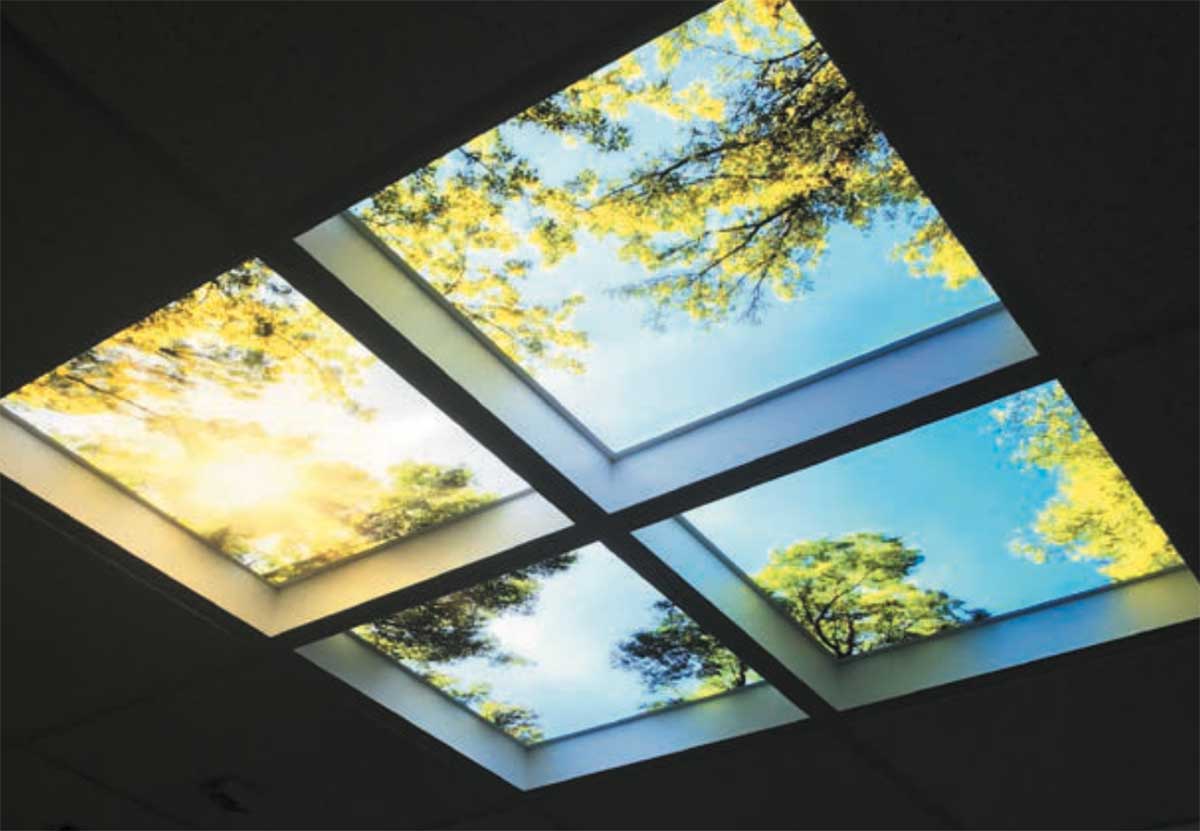 Rotherham Hospital
100% of people asked (including hospital staff and patients) agreed that Visualite helped to brighten up the clinical area

95% of people asked (including hospital staff and patients) believed that the Visualite LED sky panels generated a sense of calm
59% of patients asked stated that the Visualite LED sky panels distracted them during their medical procedure
80% of patients asked believed that the Visualite LED sky panels enhanced the patient experience and improved the healing environment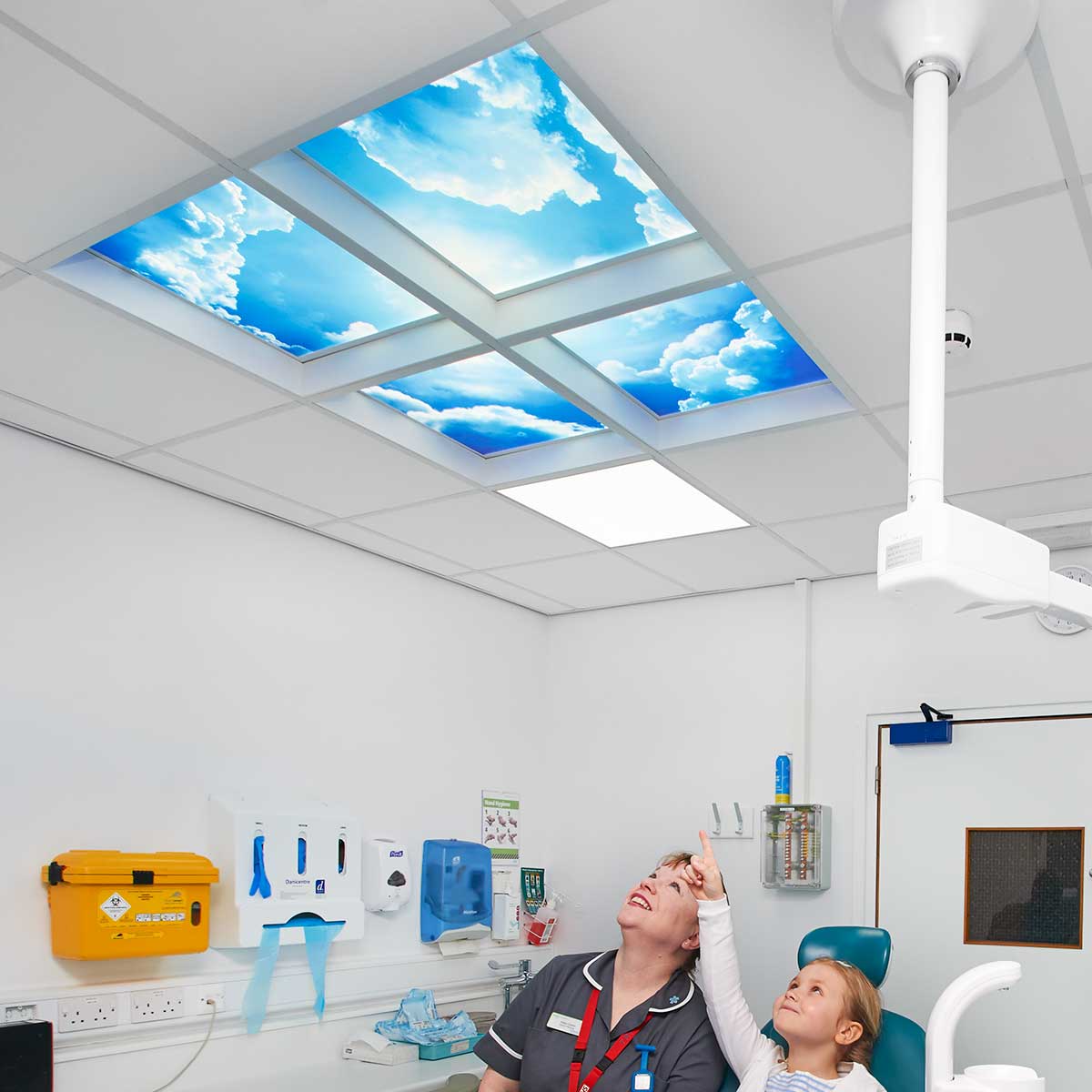 ---
"We had four Visualite tiles on trial in the CT scan department. Often some patients, both children and adults, are frightened and need some reassurance that we understand their fears.
The tiles picture is a blue sky with beautiful clouds that one could get lost within, promoting a relaxing mood.
Enhancing any environment is not only about bricks and mortar changes. It's about the use of colour, light and texture – the possibilities are endless and we can really make a difference together."
Helen Green, Head of Nursing – Operations, The Rotherham NHS Foundation Trust
---
"The Critical Care Team work hard to provide high quality care and the best environment for our patients while they are requiring treatment. The families of our patients spend a lot of time with us and a large amount of this is spent in the relative's room and on our corridor. They are understandably distressed and anxious.

We wanted to change the dark, dull and unwelcoming corridor into a bright, uplifting and serene space where relatives can appreciate the quiet time they need when their loved ones are ill.
I'm sure that changing our surroundings in such a creative and thoughtful way will have a big impact on the wellbeing of our patients and their families."
Janet Lockwood, Ward Manager for ITU and HDU
---
"We have received very positive feedback from our Radiology department.

Patients with dementia are often frightened to have scans, especially MRI scans. Feedback is that since the Visualite panels have been in place compliance of using the large machines is much better. Patients appear calmer and less agitated, they look at the panels which often evoke memories of their past, very soothing."
Anita Ruckledge, Dementia Lead Nurse - The Mid Yorkshire Hospitals, NHS Trust
---


SENSORY AND WELL-BEING LIGHTING SOLUTIONS
Visualite artistic lighting panels are suitable for domestic properties as well as a range of commercial and working spaces.
Here are a few examples of the types of industry premises which could benefit from having Visualite calming lighting panels installed:
Hospitals / medical environments
Education
Retail and leisure
Basements
Boardrooms
Commercial offices
Car showrooms
Sport stadiums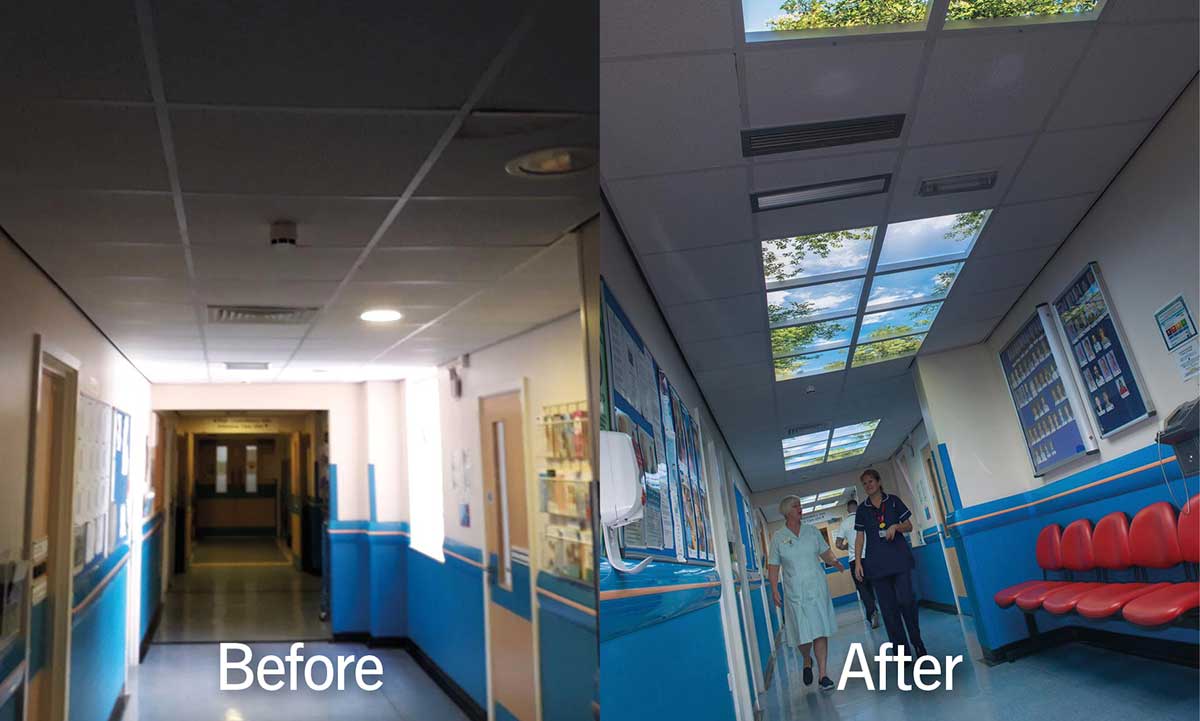 ENHANCE YOUR INTERIOR SPACE WITH VISUALITE
YESSS Electrical can provide you with the perfect Visualite lighting panels for your interior space. Whether you want to enhance the appearance of your office space, or add a statement feature to your home, our experts can provide you with the help and advice you need.
Our Visualite LED wall panels and LED ceiling lights can help you redefine any room. Plus, you can compliment your selected high-definition image with an elegant and contemporary frame. Available framing options include standard matt black, white and bronze finishes, as well as other bespoke materials to match the aesthetics and style of your space.
Get in touch with our helpful team today on 01924 227941 to find out about our exceptional range of Visualite panels. You can also view the latest Visualite catalogue here
Alternatively, if you don't have your own bespoke design in mind, take a look at our incredible collection of Luxna LED sky panels, which come equipped with a range of beautifully displayed scenes.