The Cost of Charging Electric Vehicles Across the UK
The cost of living is constantly rising for UK residents, with transport being the biggest expense, following mortgage and rent payments. According to the latest ONS Family Spending Report from Spring this year, the average household spends £354 on travel each month, with car fuel accounting for 27.3% of this figure.
With energy and gas bills and supermarket costs also soaring, Brits are facing immense financial pressure and looking for new ways to make savings, including making the switch to an electric vehicle (EV). In a recent survey, 39% of those who said they were considering purchasing an EV in 2022 were prompted by the increasing fuel costs.
But how much could Brits save each year by choosing EVs over fossil fuel cars? Analysts at YESSS Electrical have compared the cost of charging an EV to refuelling a petrol or diesel car and revealed which areas would offer the most significant savings.
The average mileage of a fossil fuel car vs electric car
The team first studied the cost per mile of fossil fuel cars, measured in miles per gallon (MPG) and electric cars, measured in miles per kilowatt-hour (kWh).

The research entailed a comparison of the UK's most popular electric car, the Tesla Model 3, with an energy consumption of 4.4 miles per kWh, to the DVLA database's average new car fuel consumption figures.

The findings show a vast difference in cost between fueling a petrol or diesel car and charging an EV. On average, EV owners will pay just 4p for the electricity to travel a mile, while a new diesel car costs three times that, at 12p per mile, and new petrol car owners can expect to pay 13p per mile.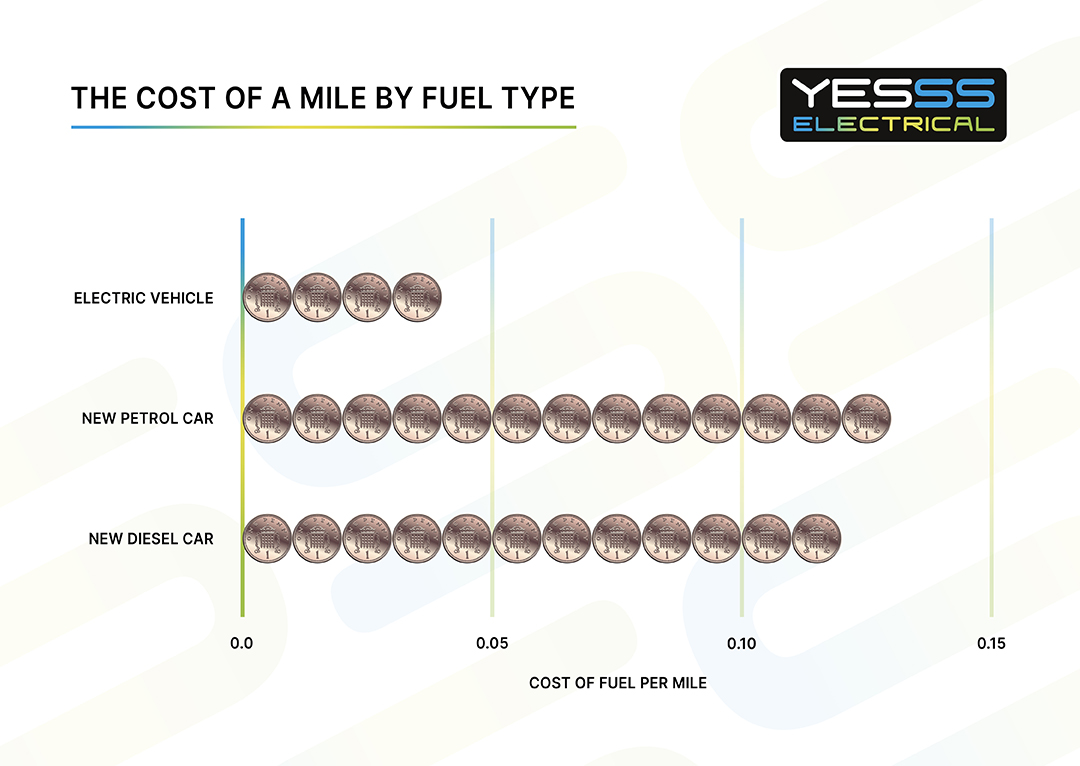 How much do EV owners save on fuel per year?
On average, electric car drivers save £582.65 per year on fuel. The electricity required to drive the UK average mileage of 6,800 miles each year costs just £265.82. In comparison, petrol car owners would spend £888.42 on fuel to cover the same distance, and diesel car owners would spend £808.51.
Regions of the UK have different fuel and electricity prices, which change how much an EV will save you. So which regions see the most significant savings when switching to electric cars?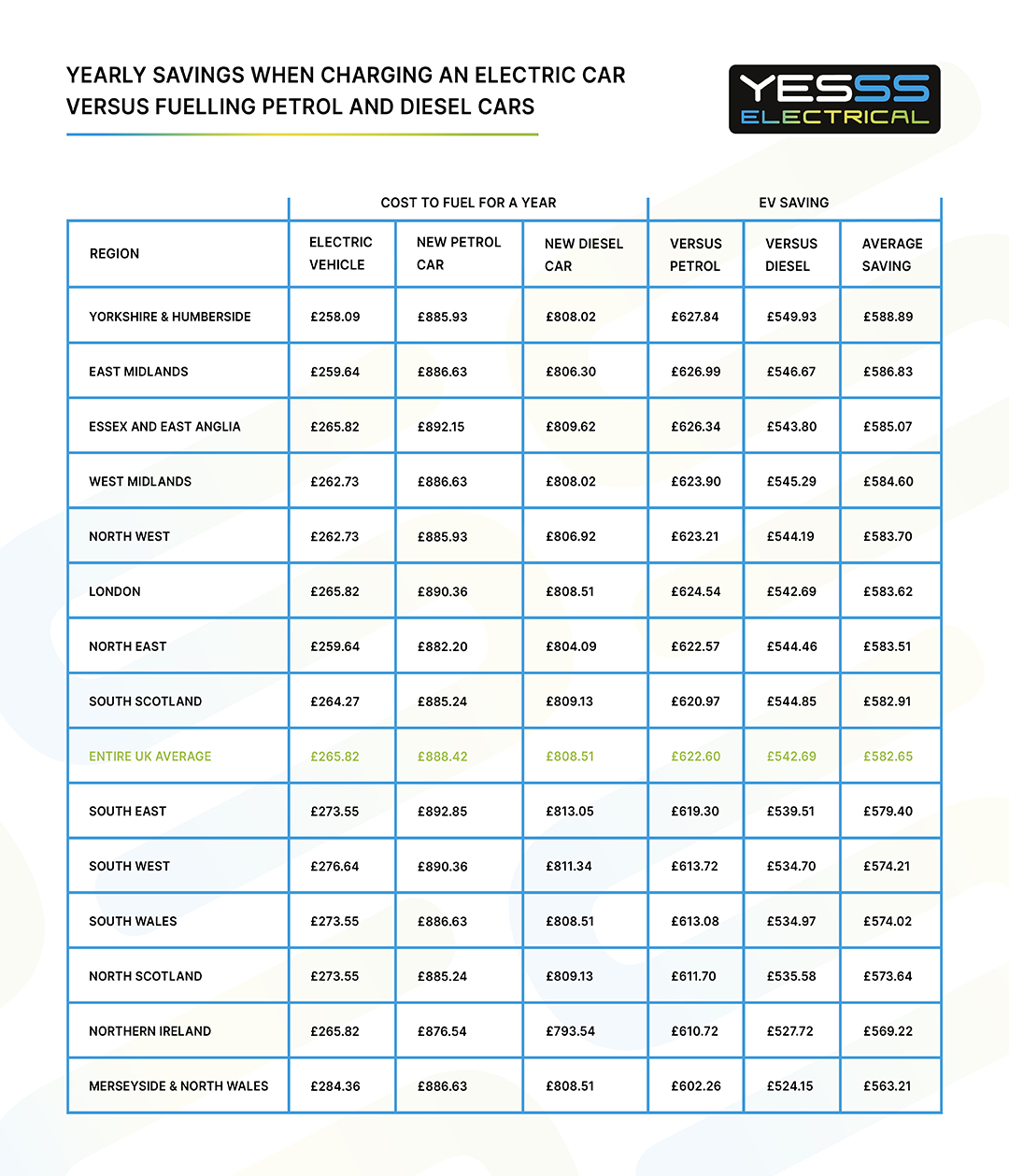 Overall, Yorkshire & Humberside residents will see the biggest savings when switching over to an electric car.
Lower electricity costs across the region result in a cheaper yearly price of just £258.09 to power an EV and average yearly savings of £588.89. Petrol and diesel cars vary in refuelling costs, so where will owners of each type save the most when switching to an electric vehicle?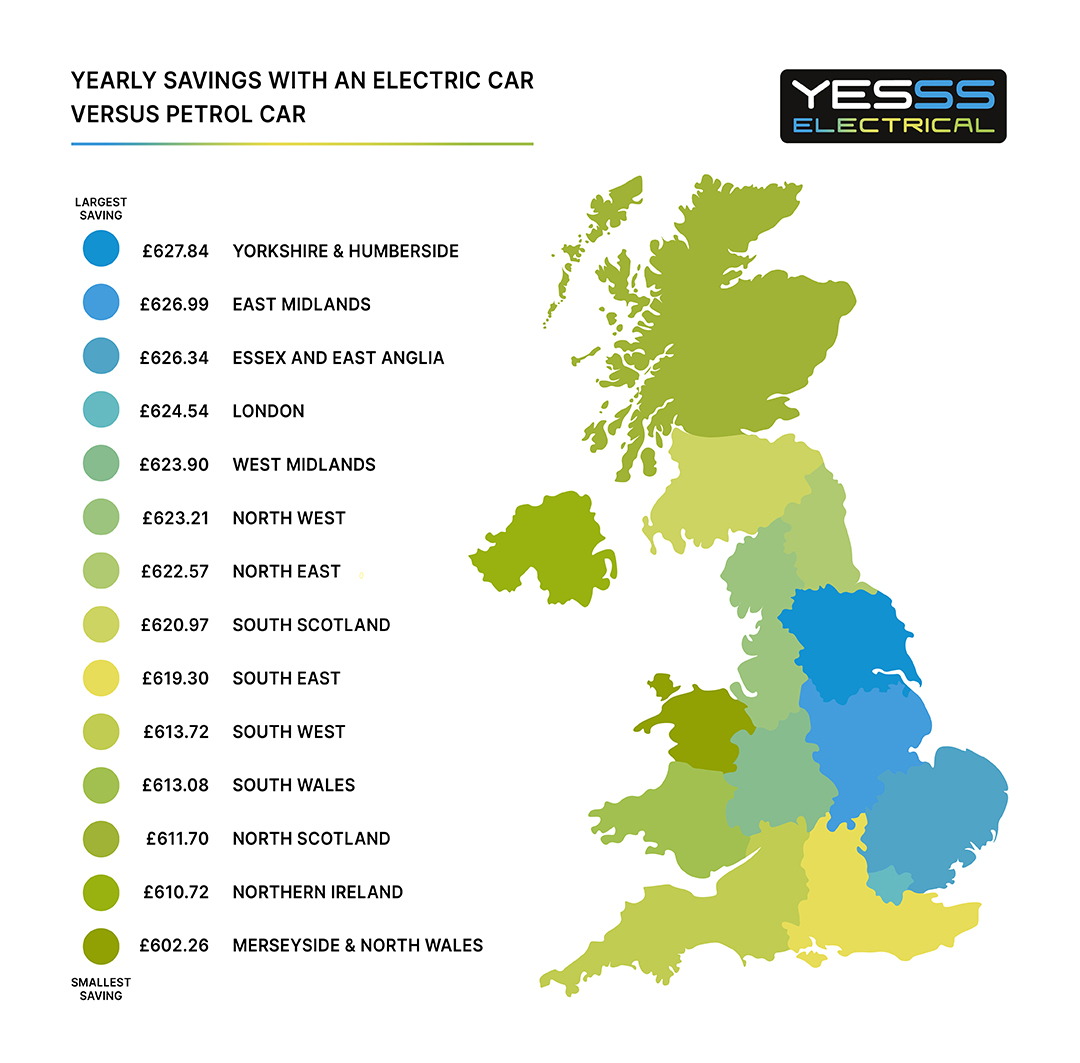 How much can petrol car drivers save when switching to an EV?
Petrol car owners usually pay less for fuel than diesel car owners. However, as petrol has a lower MPG, it leads to higher fuelling costs over the year.
On average, owners of petrol cars will pay £888.42 to refill their car yearly. So, how much can consumers save when switching to an electric car, and which regions see the largest saving?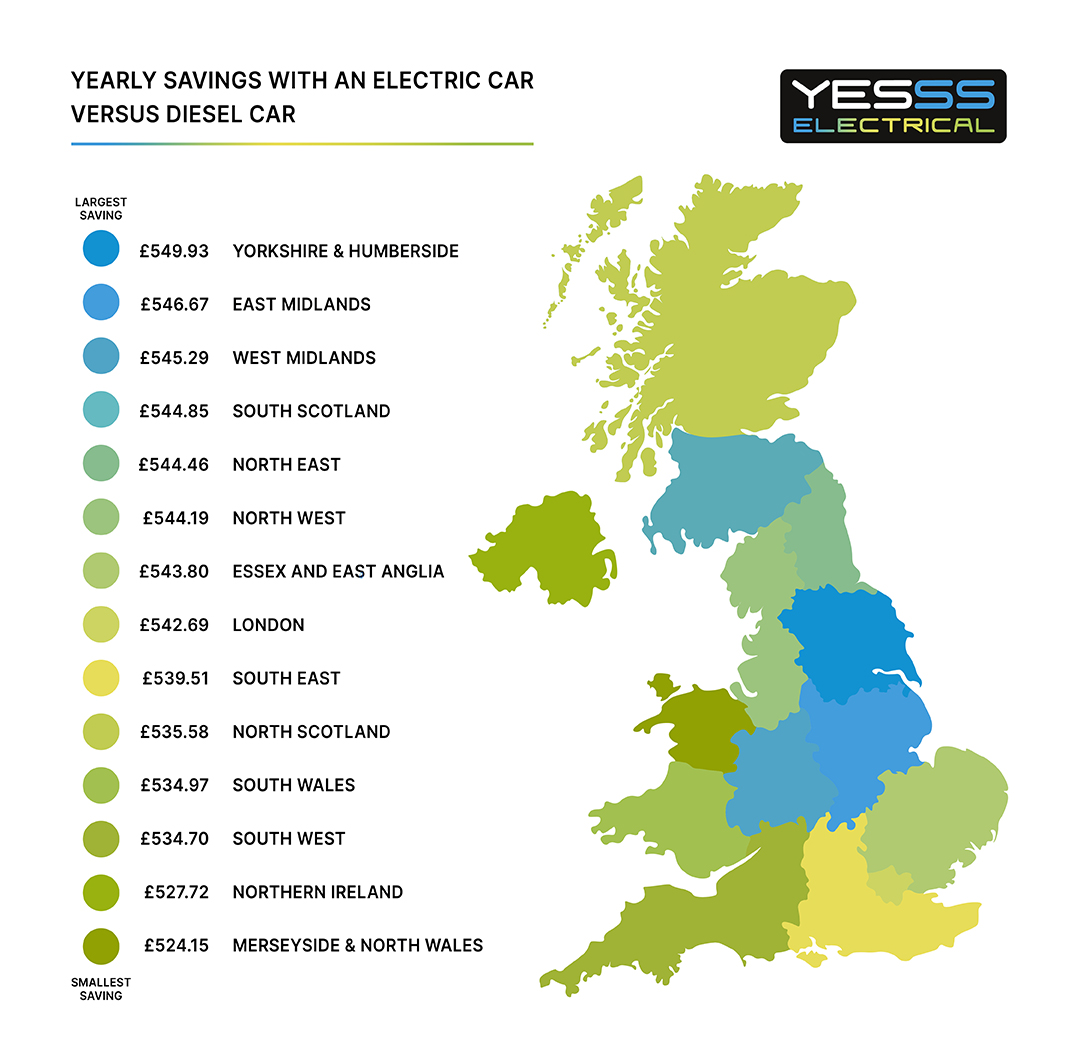 On average, petrol car drivers save £622.60 per year when switching over to an electric vehicle.
Overall, Yorkshire & Humberside residents will save the most, reducing yearly car fuel costs from £885.93 to £258.09, a huge saving of £627.84. East Midlands residents see the second-highest yearly savings of £626.99, followed by drivers in Essex and East Anglia, who will save an average of £626.34.

How much will diesel car drivers save in fuel when switching to an EV?

Diesel car owners will see slightly lower savings when moving to EV than people switching from petrol cars. On average, a new diesel car costs £808.51 to fuel for a year. So, how much can consumers save when switching from choosing an electric car over diesel, and which regions see the largest saving?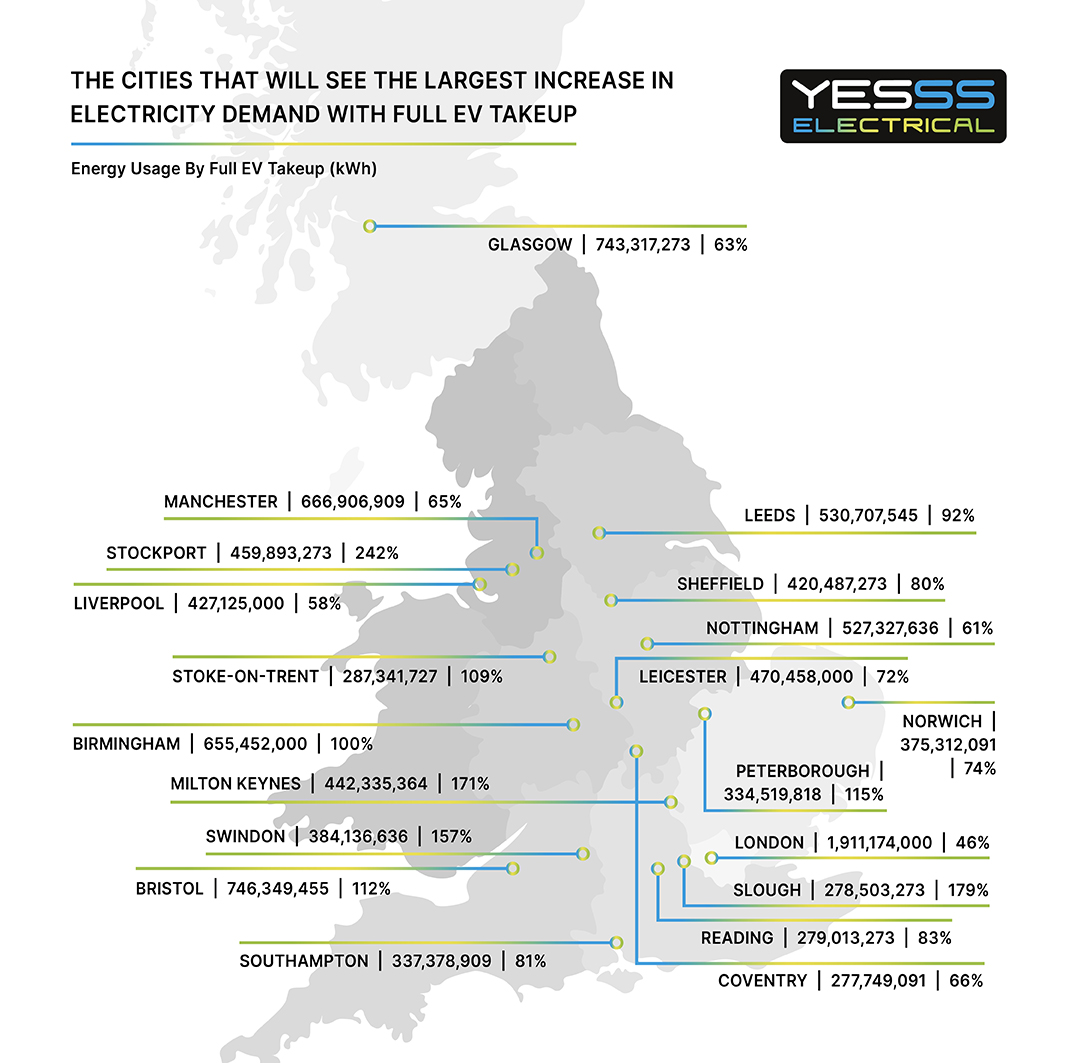 On average, the switch from a diesel car to an electric vehicle saves drivers £542.69 per year in fuel costs.
Yorkshire & Humberside is the region where residents will save the most, with yearly fuel costs reducing from £808.02 to £258.09 - saving drivers £549.93 per year. The East Midlands follows, with residents here saving £546.67 per year. Diesel drivers in the West Midlands will see the third largest saving of any UK region, with yearly costs reduced by £545.29.

How much will London drivers save when switching to EVs?

Drivers in London will save an average of £582.65 in fuel costs when moving from a fossil fuel car to an EV. People with petrol cars making the switch will save £622.60, and those moving from a diesel car will save £542.69 per year.

How could electric cars change the demand for electricity across the UK?

UK residents regularly see significant increases in petrol and diesel prices, as the country is a net importer of fossil fuels. The UK has depended on other countries and trade blocs for fossil fuels since 2005 and only has enough stored fuel to power the nation for a few days.

The UK can't produce enough fossil fuels to meet domestic demand. But if every resident switched from petrol or diesel cars to EVs, how would electricity demand across the UK change?
The researchers have revealed how household demand for electricity would increase if EVs replaced all of the current fossil fuel cars registered to different UK postcodes.
Overall, London will see the largest increase in electricity usage by full EV takeup, with household demand for electricity rising by 46%. To power 1,236,642 electric cars, the current number of fossil fuel cars across London, 1.9 billion kilowatt-hours of additional electricity would be required.
Stockport would see the highest increase in electricity demand of any major UK urban area. It has one of the highest ratios of cars per population of any UK area. If all 297,578 fossil fuel cars were replaced with electric vehicles, electricity demand would increase by 242%.
How will the UK handle increasing electricity demand?
Evenings are the peak times for electricity usage. However, the Distribution Network Operator in areas experiencing a huge demand increase due to EVs will reduce charging capabilities between 6pm and 8pm and allow overnight EV charging when demand is low.

Dynamic load management (ensuring all EVs connected to the grid are charging evenly) and off-peak charger usage will become commonplace as more UK residents take up EVs. As UK homes fit solar panels, batteries, smart technology, and use EVs, electricity will be generated, stored, and distributed locally, with less reliance on the national grid.

About YESSS Electrical

We're the fastest growing electrical wholesaler in the UK with over 95 branches nationwide and have been established in Europe for almost 50 years. Locations include London, Sheffield, Leeds, Nottingham and even the Channel Islands. Each branch has a helpful knowledgeable team, with their own delivery drivers.

The YESSS EV & Energy department supplies EV charging, solar, wind, battery storage, and energy-saving options to customers and companies across the UK and Europe. They supply all major renewable energy brands and tailor each offering with marketing leading consultancy, ensuring the solutions offered are perfectly suited to each clients' needs.

Through the electric vehicle charger range, YESSS Electrical offers domestic EV chargers, commercial and workplace EV chargers, along with a host of charging accessories to meet any requirement.