How does weak WiFi affect working from home productivity?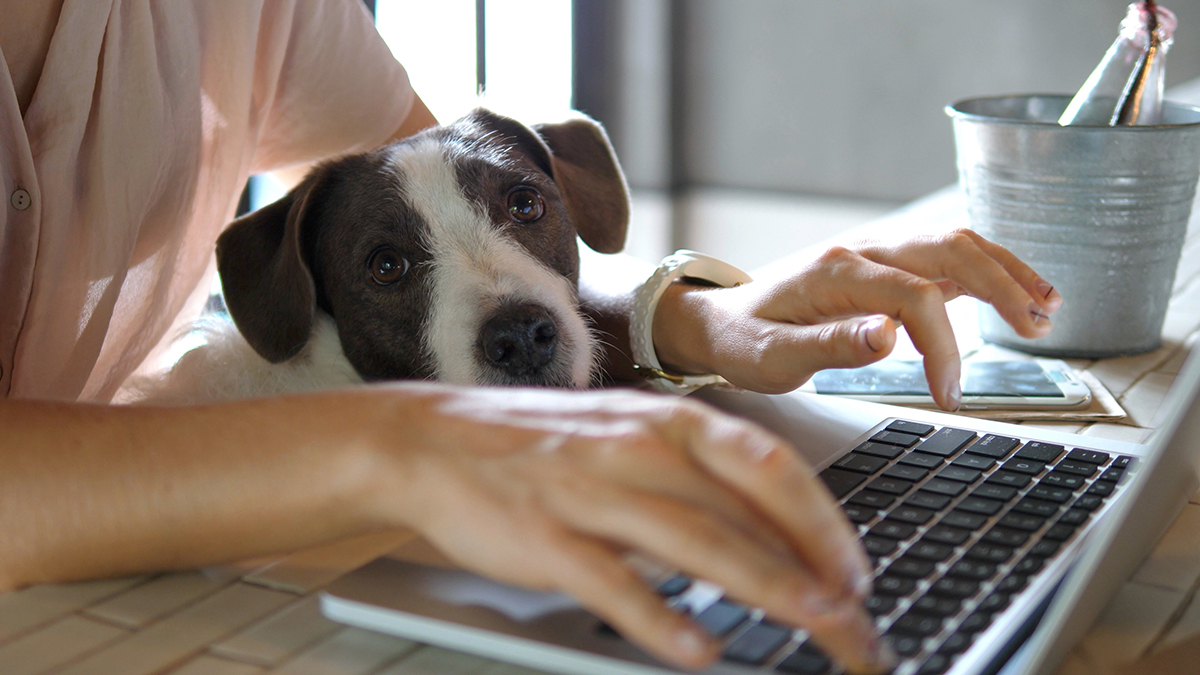 How does weak WiFi affect working from home productivity?
Over the past couple of years, many people across the globe have switched to alternative ways of working, whether this is hybrid or fully remote work. However, as businesses adapt to these models of work permanently, more people rely on internet connectivity than ever before.
Analysts at YESSS Electrical have revealed how internet connectivity affects our abilities to work and the effect this can have on productivity levels.
WiFi Strength
The study found that 28.09% of those surveyed couldn't work at all without internet connection, relying heavily on the internet for their role. 42.97% of those surveyed said that they couldn't complete half a day's work without the internet.

Despite many people moving to a remote or hybrid role in 2020, more than one in four people (26.7%) said they have experienced even slower internet speeds in the past year, with WiFi still struggling to keep up with demand.

Remote Working Issues
The research entailed looking into the different internet issues associated with working from home.
The findings showed that around one in nine people struggling with weak wifi have lost important work documents, and 15.9% of people have experienced programmes essential to work crashing or not loading at all.

Communication is important to the workplace, helping teams to collaborate. However, 19.9% of respondents experienced issues connecting to video calls, inhibiting communications with colleagues.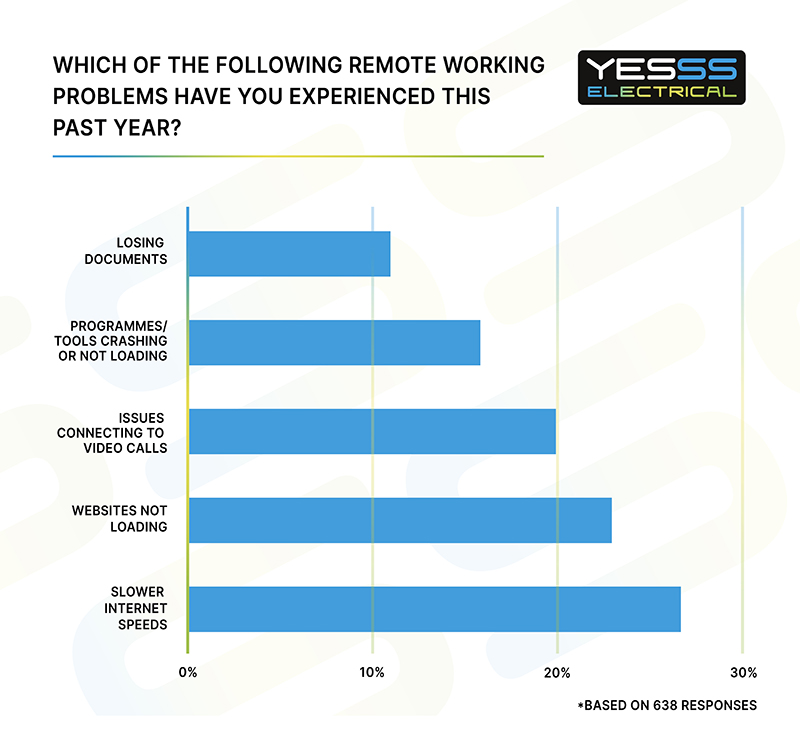 Without internet connection, how long could you work for?
On average, 28.09% of people couldn't work at all if they were to lose WiFi, as their job relies heavily on the internet. This could disproportionately affect those working in industries such as marketing and web development as the internet plays a key part in their role. However, of the 45.95% who didn't rely on the internet for work, this was not an issue.
5% of people surveyed said they could only work for around 30 minutes without internet, while 6% of those surveyed said they could work for an hour or two.

Almost 7% of respondents said they could manage a day's work without WiFi, as some aspects of their roles don't rely too heavily on the internet. However this varies according to the industry a person works within.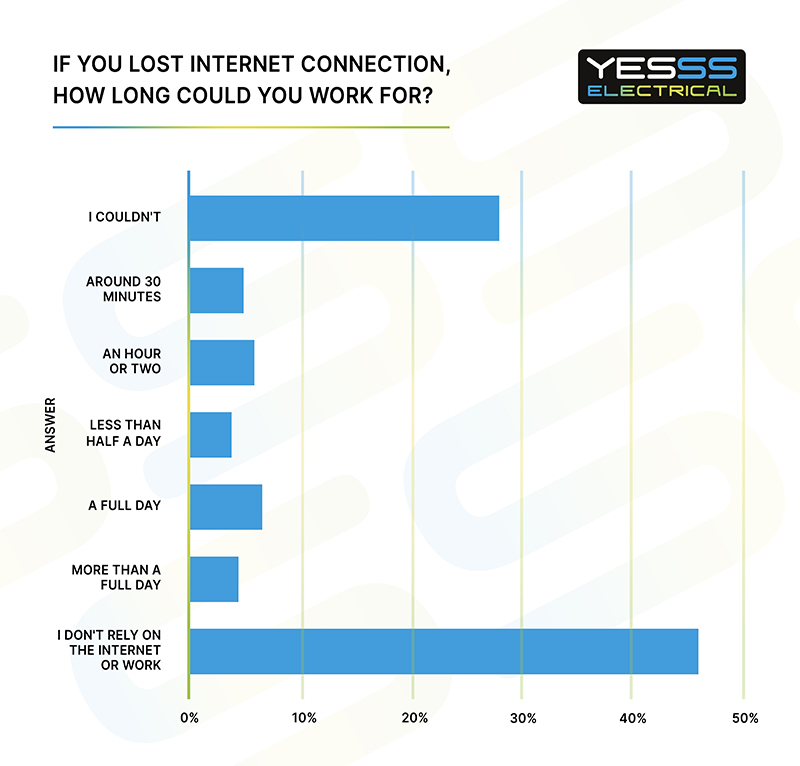 How can WiFi strength affect remote working?
Analysts then looked into the different tasks people complete on a daily basis, comparing the speed of activities with a weak WiFi connection versus a strong WiFi. The research is based on 100 different tasks. So, which tasks were affected the most by WiFi strength?
Overall, loading times took 49.9% longer with a weak WiFi connection. This includes using online tools and databases.
The average time for communications based activities increased by 86.2% with weak WiFi.
However, simpler tasks such as sending a text email only saw a 21.6% increase in time with one-bar WiFi strength, compared to three-bar WiFi.

The research found that even simpler tasks can be impacted by a weak WiFi connection, but those that are much more intensive are affected even more. Slow and weak WiFi connections are more likely to impact those taking on more intensive and comms based tasks on a daily basis.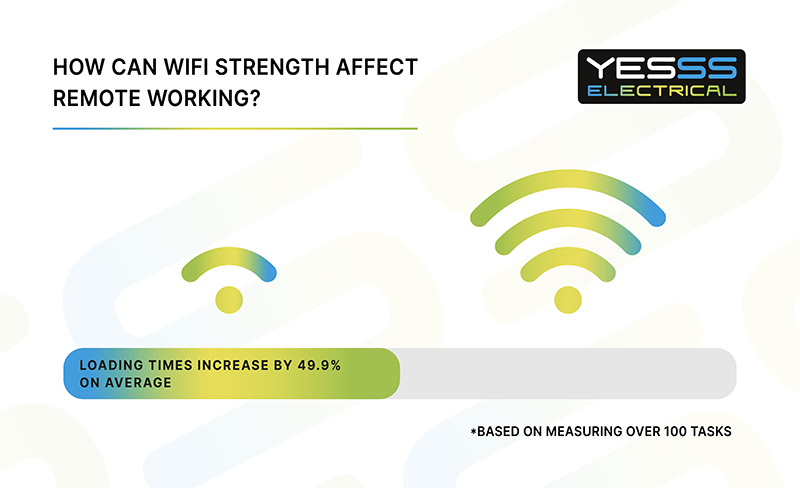 Mark Nolan

, spokesperson for YESSS Electrical: "As the digital economy grows across the globe and more people work remotely, a strong internet connection is becoming more vital to many roles.
"However, this study has revealed that limitations in internet infrastructure are restricting a seamless move to remote and hybrid work.

"If you're struggling to connect to WiFi, try a WiFi booster, connect via ethernet cable, or switch providers.

"And if you're looking to permanently relocate and work remotely, prioritising areas of the country with better connectivity will aid this move. You can check speeds, latency, and coverage through maps provided by various broadband comparison websites."

About YESSS Electrical



YESSS Electrical are the fastest growing electrical wholesaler in the UK with over 95 branches nationwide and have been established in Europe for almost 50 years. Locations include London, Sheffield, Leeds, Nottingham and even the Channel Islands.

The

YESSS Smart Homes & Data

department stocks

cable management

,

data networking

supplies and a range of other smart options to customers and companies across the UK and Europe. With marketing leading consultancy, customers are sure to receive the perfect smart home accessories, with each tailored specifically to the required needs.
Through the smart home range, YESSS Electrical also offers a range of smart home thermostats,

doorbells

,

telecoms

,

audio devices

, fire and CO alarms, and TV and satellite products.